5 FREE Android Apps to Listen Latest Hindi Songs Legally
Bollywood music, more formally known as Hindi film songs, or filmi songs are songs featured in Bollywood films. However, hindi is the official language of India and the bollywood music is the most popular music in India as well, there are thousands of websites allow you to download Indian bollywood songs illegally, to get the free songs legally on Android phone is now possible.
See Also 5 FREE Apps to Boost Audio Sound Quality with Equalizers
.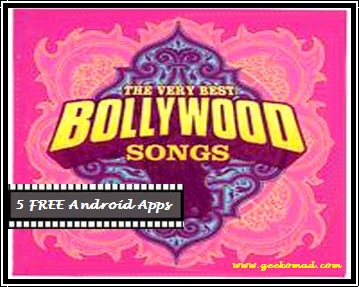 There are many Android Apps to listen latest hindi music legally but we have compiled 5 Best Android Apps (according to downloads and user reviews) to listen Bollywood Songs, some of them give you the option to download songs also in their paid app.
See Also >> 3 FREE Apps To Increase RAM Speed Of Android Phone

Downloads: 38,731, Rating: 4.4.
Hindi Songs & Bollywood Music Android app is most popular amongst its category, while testing this app we found this app working very fine, it has some of the categories like New releases, top songs, weekly chartbusters and now playing.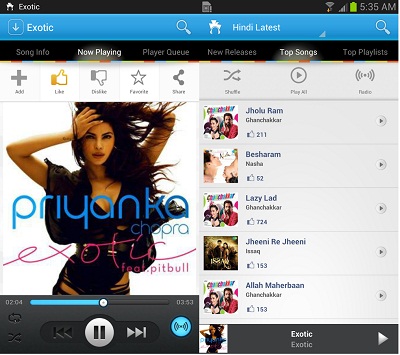 Hindi Songs & Bollywood Music App Features:
Listen to unlimited songs for FREE from different languages or genres like Hindi, Oldies, Marathi, Tamil, Telugu, Malayalam, Sanskrit, Punjabi, Bhojpuri, Bhajans, Ghazals, Pop, Remixes, Relaxation, Meditation and many more.Search and discover new songs all the time.Search for songs, albums and playlists. Search by actor name, singer, year, song or movie name.The awesome "Play All" & "Shuffle" features allow you to play any number of songs one after the other in Radio mode.Listen to "Top Songs" from all the different genres.Listen to playlists created by you, your friends or anyone from the Dhingana website's communitySupports incoming phone calls. If a call is missed or declined, music streaming will continue from where it left
.

Downloads: 28,079, Rating: 4.3.
Saavn is good app to listen to all your favorite Bollywood and Indian music free. Saavn is a easy to use app to search, discover, and listen to over one million Indian and Bollywood songs. You can not only listen latest songs but also hard-to-find classics. Saavn's catalog includes
Bollywood, Hindi, Tamil, Telugu, Punjabi, Marathi, Bengali, Kannada, Gujarati, Malayalam, and Bhojpuri music
. Play all the best songs from films, bhangra, bhajans, ghazals, pop, remixes, and more.
Saavn allows you to cache (save or download) songs it right on your device in Saavn Pro (paid) app. While testing this app, sound quality of audio songs were pretty good where other apps has better, otherwise great app for Indians having many languages available in music also.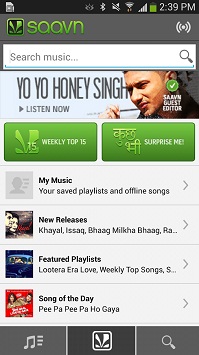 Saavn App Features:It has over 1 million Indian and Bollywood songs.Saavn catalog includes Bollywood, Hindi, Tamil, Telugu, Punjabi, Marathi, Bengali, Kannada, Gujarati, Malayalam, and Bhojpuri music.Saavn Radio station for a personalized, endless stream of music.Language preference support, go to app settings to access Tamil, Telugu, Marathi, Gujarati, Bengali, Kannada, Punjabi, Malayalam, or Bhojpuri songs.

Downloads: 10,445, Rating: 4.4.
Hungama app has nice feature Discovery Engine, if you are lazy to create a playlist, then this serves up music based on your mood. Use this to find the perfect music mix of your choice.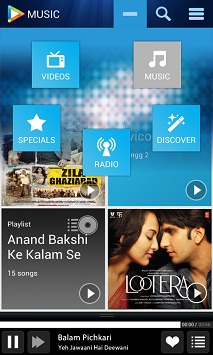 Hungama App Features:Free streaming for music (audios & videos) from entire collection of content.Get trivia, lyrics and info for all the latest songs.Find songs similar to what's being played with sleek, ultra-cool music player.Play music in GYM mode or SLEEP mode.Create playlists and save them for later access, and never have to look for favorites again.Invite your friends and share tracks and playlists with them across Social networks.Download the latest chartbuster music from the app at a great value. Collection of over 500 playlists created by our Music experts spread across Celeb Radio, festivals, party, retro, et all. For the sit back music lovers, we got 10+ Live Radio stations to choose from. 

Downloads: 6,073, Rating: 4.2.
Raaga was very popular website during year 2000-2008, that time there were only this website gives you to listen free online songs but after few years many websites entered into this segment with some innovative features.
See Also >> 5 Best Fingerprint Lock Screen FREE Android Apps
Raaga Android app has wide variety from FREE Hindi, Tamil, Telugu, Marathi, Punjabi, Kannada, Malayalam, Bengali, Devotional, Bhojpuri, Bhajans, Yoga, Relaxation, Vedic Chants, Mantras, Sufi, Ghazals, Qawwali, Meditation, Pregnancy and Lullaby songs. Enjoy kids music and rhymes.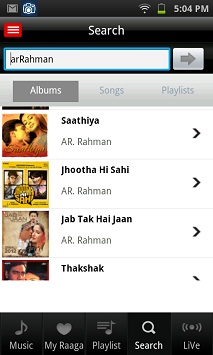 Raaga App Features:Discover new music from the community.Connect & Share your playlists with millions of music lovers worldwide.Recommend and discuss your favorite music and artists.Access loads of music from thousands of Public Playlists.Music for meditation, yoga and relaxation.Non stop 24/7 live radio in Hindi, Tamil, Telugu, Malayalam, Kannada, Punjabi, Bengali, Carnatic, Hindustani and more.

Downloads: 4,165, Rating: 4.1.
Listen to your favourite Hindi, English, Tamil, Telugu and songs in 21 other languages wherever you are, your favorite music will always be with you, anywhere, everywhere.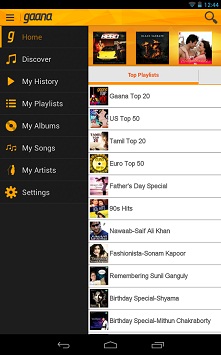 Gaana App Features:Make playlists or hear our favorite playlists, and sync them across the web and your phone.Search over 1 million songs for the one you love – whether its Hindi, English, Bengali, Punjabi, Marathi, and much more!Smart recommendations to listen to similar songs, artists, or albums.Easily share your favorites with friends on Facebook, Twitter, or by email.Download songs for offline play in Gaana Plus for $3.99 per month (Outside India) or $2.99 per month (for India).