5 FREE Call & SMS Blocking Android Apps [BlackList Unwanted People]
Its a very difficult situation when we are sitting in a meeting or attending a class our phone starts ringing, when we receive the call we come to know that this is the telemarketing call or a call from a person to whom we were ignoring. Android is the leader in smart phone market because of having millions of applications available on its Google Play store, now you can not only
Hide SMS, Calls and Contacts on Android phone
but also
block calls and texts on selected phone numbers
for unwanted people without buying any app, all 5 apps are FREE.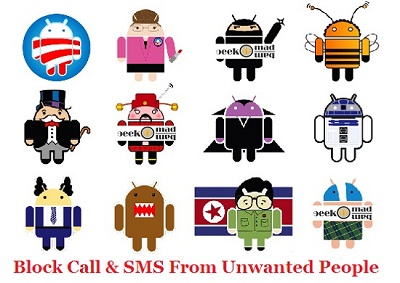 Downloads: 82,951, Rating: 4.3.
Mr. Number is most popular app to block calls and texts, its has a lot of features, you have variety of things to choose in it, you can even block phone numbers in reverse lookup, pick up and hang up on some callers and send others to voicemail – you decide. 
Keep the content of blocked texts or trash them, browse comments from other users when you get a spam call or text. Add 'Suspected Spam' to your blocklist and Mr. Number blocks them all automatically.
When you get a call from a business line, Mr. Number does a free Caller ID lookup to find a name. If it knows who called, it will display information about the business, including any offers they may have, their location and a link to their website. (You can also block the business from calling you with one tap.)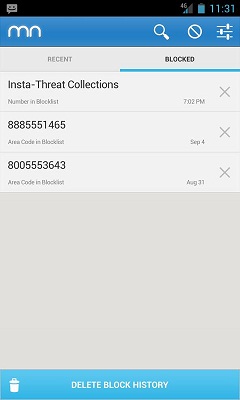 Mr. Number App Features:
Block calls and texts from a person, an area code or the entire world.Reverse lookup mobile and landline numbers.Business Caller ID provides details and deals.Stop telemarketing and unwanted people before they waste your time.Automatically intercept calls and texts from private/unknown numbers.Report spam calls, SMS, and MMS to warn other users.

 Downloads: 43,960, Rating: 4.4.
This Call Control app is one of the best app we have tested to block calls and texts, it is such a easy app with o many options which even a kid can use, it is highly customized app designed for the people who needs everything at one place.
This Call Control integrates with the FCC Do Not Call registry to make Call Control even more powerful to fight spam calls.
You'd have to enter thousands of numbers into other call blocking applications to match the power of Call Control! Call Control comes pre-loaded with a Community Blacklist that is generated from Community reports and Do Not Call complaints, blocking thousands of spam and unwanted calls / text messages right out of the box.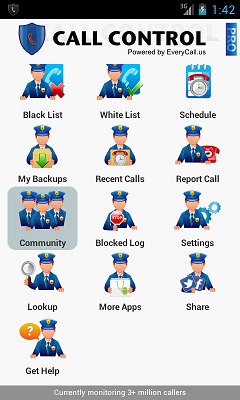 Call Control App Features:
Automatically blocks thousands of active spam callers reported by the community.Personal Blacklist lets you block any phone number or area code (3 entry limit in Lite version)Reverse lookup for spam callers to find out who's calling (and it's free).Powered by the FCC Do Not Call Registry – blocks reported offenders automatically.Personal Whitelist and Contacts Protection – Make sure important calls are never missed.Blocked Calls Don't Ring! You choose what to do with blocked calls.See Also >> Backup Android Call Logs [Dialed, Received & Missed]

Downloads: 35,777, Rating: 4.3.
Call Blocker is nice and well designed app from a giant Antivirus maker NQ Mobile Security, while testing this app we find this app very user friendly with main options on the its dashboard, it also can backup your contact list on their server to protect your privacy and whenever you require it you can restore.
Call Blocker blocks unwanted calls now and protect your privacy. Now with better developed features, you don't have to worry about privacy leakage. Protect your private info 24×7.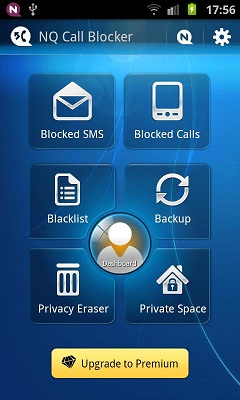 Call Blocker App Features:
Block unwanted calls (Reject calls, forward or reply with an auto-SMS).Block spam SMS (accept phonebook only or simply block black list).Back up contacts to a server, so you will never lose them!Transfer data to new phone (available cross-platform to Symbian / Android / BlackBerry device).Quickly and easily erase the call history, delete SMS messages between your phone and individual contacts permanently to protect private data.See Also >>

Downloads: 10,244, Rating: 4.2.
PrivacyStar app for Android lets you know who is calling and texting, while giving you the power to report and block anyone abusing your cell number.
Whichever option you choose, you can take control of your incoming calls and texts to ensure your privacy with PrivacyStar.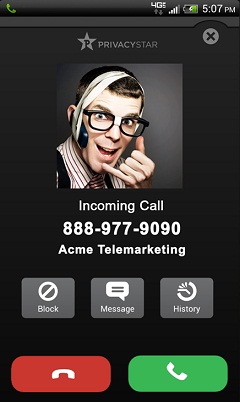 PrivacyStar Caller ID & Block Features:
Unlimited call & text blocking.Real-time Caller ID* (trial).Reverse number lookup for calls & texts (trial).Real-time call interaction with CallCenter.Unlimited reporting of abusive numbers.

Downloads: 1,779, Rating: 4.4.
This Call and SMS Easy Blocker app is new to Google Play store but grabbing a lot of attention because of its simplicity, this app works the same way above app works, it can blocks unwanted SMS and calls from blacklist and also private numbers which most of time come from different advertisement agencies.
You can hang up on the caller or just mute call. Say goodbye to annoying and unwanted phone calls and texts.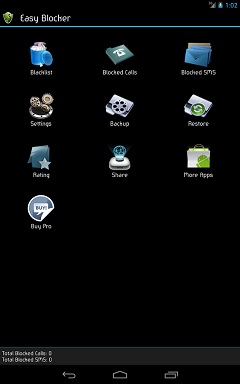 Call and SMS Easy Blocker app Features:
Block unwanted/spam calls and text messages.Block private & unknown callers.Call waiting block support.Blocked SMS will be erased before received.You can easily monitor blocked calls/SMS from the blocked log.Blacklist and blocked log backup facilities
That's it, some of the great apps we have shared with you, it is highly recommend to test each app once to check which app suits you more, let us know if we missed any good app in comments section, if we liked your app we'll add it here.