5 FREE Apps to Boost Audio Sound Quality with Equalizers
A decade ago a phone was used only for the purpose to make calls and texts but now a phone is not a phone without music capability, there are only few pass time for youngsters whenever we get time we listen to music or play mobile games.
See Also >> 5 FREE Android Apps to Listen Latest Hindi Songs Legally
If you are one of those who loves to listen music but with good sound quality on the android devices. You can install free music apps with equalizers on your Android phone, inbuilt music app is nice but is unable to boost the sound with equalizers which we think is important for every phone.
List of 5 FREE Music Equalizer Apps:

Downloads: 45,871, Rating: 4.5
Equalizer is the best free music app available on Google play store for boosting sound quality of your Android devices. Equalizer lets you adjust sound effect levels of your Music or Audio of your phone. Just apply Equalizer Presets based on Music Genre, or quickly create your own custom preset with the 5 band Equalizer controller. Additional Audio Effects supported include: Bass Booster, Virtualizer and Reverb Presets.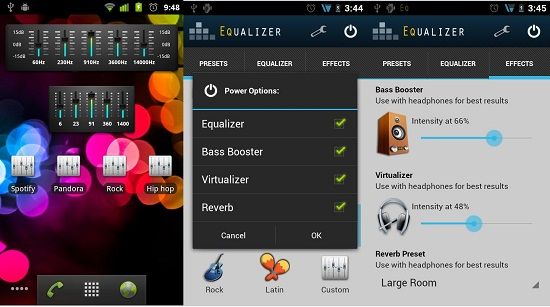 Equalizer Features:Works without rooting.Preset auto-detection (See list of supported players below)5 Band-level Equalizer Controller.Bass Booster, Virtualizer, Reverb Presets.Integrates with stock Android Music player.Works on both wired and Bluetooth A2DP headsets.Power Mode options to enable/disable effects.Beautiful 4×1 and 2×1 Equalizer widgets for your home-screen.

 Downloads: 23,695, Rating: 4.5
Equalizer Music Player is also free music player with options of a professional music player. It will make your music sound experience great. It uses the professional audio decoding technology, it will play the music perfectly and realise high-fidelity playback. Use with headphones for best results like stereo effect, surround effect, and so on.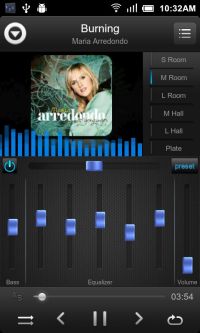 Equalizer Music Player Features: Browse and play your music by artists, albums, songs, playlists.Media volume and bass control.Five band equalizers.Bass boost effectPreset equalizersMusic surround left and right.

 Downloads: 5,042, Rating: 4.5
Android Equalizer Player is also free and somewhat similar app to Equalizer Music Player, a music player for android.It will make your music sounds like never before. Using the Free Lossless Audio Codec technology to make the musics be played perfect realization of high-fidelity playback.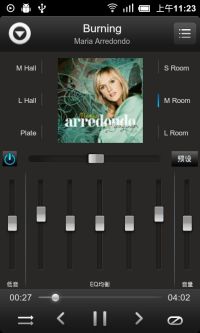 Android Equalizer Player Features:Media volume and bass control.5 music band equalizers.Bass boost effectMany equalizer presets.Can turn off and turn on equalizer effect.Left & right swipe change song.Share to your friends by facebook,e-mail,SMS,and so on.

 Downloads: 2,826, Rating: 4.4
AnEq Equalizer Free is nice and simple app, it also has 5-band Equalizer. Also create and store custom EQ presets. Once activated the EQ runs in the background and will process the global audio output.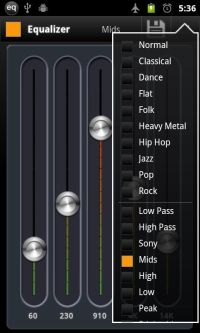 AnEq Equalizer Free Features:5 band equalizer.various equalizer presets.Manually increase or decrease treble or bass.

 Downloads: 973, Rating: 4.2
Easy Bass Booster / EQ is free and new app in Google play store and increasing its popularity everyday, try this new simple BASS booster to enjoy the maximum bass effect, use headphones or external speakers to enjoy crystal clear sound quality with effects. Simply tap the speakers and have fun!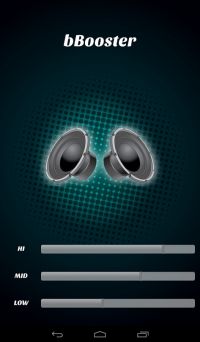 Easy Bass Booster/EQ Features:Bass boost effect.3 bands equalizer.Animated icon
That's it, you can select one of the equalizer within the list to choose your music taste or select from one of the presets. If you want great sound effect with treble and bass boost then we would recommend you to listen the music on headphones.