3 FREE Apps To Hide SMS, Call Logs & Contacts On Android
Everyone has different reasons to hide SMS text, call logs and contacts, but one definite reason that we have something secret on our phone and don't want others to read whether its text messages, contact numbers or
dialed, received and misssed calls logs
. Especially teenagers have many secret things on their smartphone and that is a fear for them that someone else can see or read.
Now you don't have to be conscious about your phone when somebody borrows it to play games or to make calls. We compiled 3 top Android apps those can hide your SMS text, call logs and contacts.
Hide SMS Text Contacts Calls is a nice app which makes it everything possible for you in one single app, in this app you can not only hide private INCOMING Call, MISSED call notification, CALL LOGS, Private SMS & Private CONTACTS but can block unwanted calls and texts as well.
It has 6 modes which makes your all need possible in one Android app.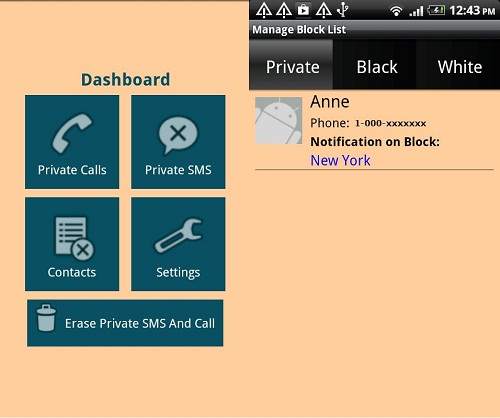 Features:
PHONE IN OTHER HAND:
By default phone in Other hand mode is disabled. Which means call is blocked/hidden only from BLACK LIST contact. If you want to hide incoming call from PRIVATE LIST contact as well (when you feel your phone will be in other hand) you can enable "Phone in Other Hand". This way other person never receive your private call. You can see those logs later and again disable this feature once phone is your hand.
PRIVATE LIST:
Add your personal/private contact into this list after adding to this list. All call logs and SMS from these numbers will not be saved in to phone inbox & call logs but saved to the private space and only you can see those.
BLACK LIST:
All call and SMS from this list will be blocked and moved to the private space.
WHITE LIST:
Add white number which you never want to hide from others. The call & SMS from these numbers will behave normally.
Block Mode:
By default block mode is set to "black list only". You can change it to "ALL Calls" and by doing this all call & SMS except WHITE LIST will be blocked/hidden & logs saved to private space.
Fake/Alias Notification:
With each contact you can enter its fake name so that when call & SMS from this number is blocked/hidden a notification with its fake name will appear on the status bar. By doing this only you can be able to understand who is messaging and calling you.
Private Space is a also must try app which gives you privacy protection to hide your contacts, messages and call logs that you do not want others to see. This application's app icon also can be hided, you can dial your "##pin password" (such as: ##1234) to open this application after app hide is enable.
Private Space sets up a personal space on your phone where you can add any contacts in. After that, incoming/outgoing messages(SMS & MMS) and call logs between private contacts will be kept in that personal space without shown in normal message box or call log history.
Features:
You can hide this app and no one will know about hiding.Hide your private CONTACTS from system address book.Secure your SMS & MMS by hiding your MESSAGES into Private Space.Hide your secret CALL LOGS and block your sensitive CALL at awkword time.ALERT with a 'dummy' SMS, vibrate or play your customized ringtone when you get messages or phone call. You can be notified when new messages or calls arrive but only you know what they really are.Shake your phone to close PrivateSpace in a hurry.
Shady Contacts is a good app that can hide SMS and call logs. First you have to install the Shady Contact App, after the installation is complete, it will ask you to set the unlock pattern and when you record your pattern successfully you will get the dashboard where calls logs, contact numbers, SMS text can be hidden from there.
Features:
Hide SMS and call logs away from stock apps.Unlock code protection (PIN or pattern).Option to hide app from launcher (by default, dial ***123456### to open).Auto-lock (don't use app for awhile), auto-destroy (after wrong code some times), quick lock.Restore call logs/text message from/to stock apps.
See Also >> 5 FREE Call & SMS Blocking Android Apps [BlackList Unwanted People]
We know there are many Android apps available in Google Play store but we try hard to list best free apps those can solve your problem without spending a single penny. Don't forget to add your comment and tell us your favorite app.