10 FREE Call Recording Android Apps Works During Phone Calls
The best way to record phone calls is the default app comes with most of the current phones, but if you don't have that app in your Android then don't feel inferior, this article is for you.
You've surely had times where you wish you had recorded the content of a call after forgetting what was said or when a problem occurs after hanging up. Many cellphones already have a call recording function, however recording important call content is not easy as it is hard to guess whether the conversation during the call is important or not.
See Also >> 5 FREE Call & SMS Blocking Android Apps [BlackList Unwanted People]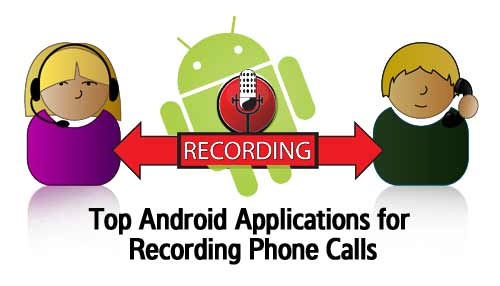 Install all the apps to check which one suits your need and fits in your requirement, the app among 10 best call recorder apps and start recording your phones calls for the purpose you have.
List of Top 10 Call Recorder Apps For Android Phones: 
Call Recorder is a Free app and can record all your calls in a very easy way and you can easily manage all your call records too.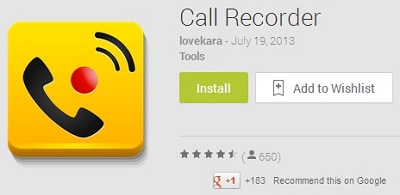 Record your calls automatically during calling.Organize your records. You can view all your calls with options like by list by time, group by names or group by dates.You can play back, or save your call to mp3 files on your SD card.It's FREE!
Note:
this app might not be able to record calls on Android 4.0.3, if your phone is Android 4.0.3, please update it to the newest version (4.1 or higher)
This app might not be working when you are using other apps to record something, such as wechat, LINE: Free Calls & Messages, voice recorder, you could try turn on the "compatible mode" in this app to fix this problem.
MP3 InCall Recorder & Voice previously known as InCall Recorder is also a free app which allows full control of Recorded Calls, you can choose when to start recording and saving battery power and reduce size of the audio file, there is also a choice of automatically recording all conversations interactions unattended. You can choose where to place the recording start button. You can play, share, or add a note to each call recorded.
Application Password – Protects audio files from exposure.Delete or save the last recording in Auto mode.(optional).Select the file save location and folder name (external or internal SD card).Sync to Dropbox!: single file, multiple files, or sync every recording at the end of it automatically.Files will be saved in folders sorted by contact / phone number and inside by date.Automatically recording selection to specific contacts or phone numbers.
Free Call Recorder is another free call recorder application.
It is Tested on Samsung Galaxy S3 but reported to be working phones listed below. There is no guarantee that it will work on your phone. This is due to capabilities of different chipset/CPU each brand/model have.
Grouping recordings by date.Auto email.Auto delete old recordings.Marking recordings as important so they don't get auto deleted.Multi select, delete, send and Search.Displaying contact name and photo.Excluded numbers.Auto or Manual call recording.Password protection of recordings.Lots of recording formats.Ability start delayed recording.Different recording modes by number, contact, non-contact or just selected contacts.
The Automatic Call Recorder is one of the best Call Recorder Android App that automatically records cellphone call content and allows you to listen to it at any time, you don't need to worry about recording as incoming/outgoing cellphone calls, all calls are automatically recorded, allowing you to listen to them again at any time.
See Also >> 3 FREE Apps to Hide SMS, Call Logs & Contacts On Android
When you need to review the important call content, recall forgotten memories, distinguish right from wrong or when you've forgotten to take a memo.
Automatic incoming/outgoing call recording function – no need to press the recording button!The size of the recording file can be minimized by selecting between the recording formats of mp3, mp4 and 3gp, allowing for clear sound quality despite the small size of the file.Important calls can be designated on the call recording list allowing them to be managed separately.Call recording files can be listened to using the default media player (included).Call recording files can be shared by email, mms and messenger apps, and conveniently added to the cellphone's cloud app, SNS apps, and diary apps.Files can be copied to the cellphone's memory card via USB.Free space can be designated in order to save memory.A password can be set excluding others from accessing recordings.Call recording files can be selected to hide or show from the cellphone's media player.
Record My Call app has a basic purpose to record all your call (incoming and outgoing). Please be noticed that due to limitation of Android phone (hardware and software), this program only can record from microphone. So turn on the loudspeaker during conversation to record voice from both sides. All conversations are recorded under file "RecordMyCall" file in memory card. Please use speaker to get a better record quality during call.
Record incoming and outgoing call.All files are saved in memory card.Records Voice only from Microphone.Dropbox & Google Drive sync.Manual record & Filter contacts.
Automatic Call Recorder can record any phone call you want and choose which calls you want to save. You can set which calls are recorded and which are ignored. Listen to the recording, add notes and share it. Integration with Dropbox allows calls to be saved and synchronized to the cloud as well.
There are 3 default settings for automatic recording:-
Record everything (default): This setting records all calls except for contacts pre-selected to be ignored.Ignore everything: This setting records no calls except for contacts pre-selected to be recorded.Ignore contacts: This setting records all calls with people who are not contacts, except for contacts pre-selected to be recorded.
Note: Call recording does not work on certain handsets and can result in inferior quality recordings. We therefore suggest that you try the free version before purchasing the paid app.
You can change the destination recordings folder to an external SD card as well. You can set the size of the inbox.If you decide that a conversation is important, save it and it will be stored in the Saved Calls folder.You can enable a Call Summary Menu with options to appear immediately after a call.Search for recordings by contact, phone number, or note.
Call Recorder is a simple call recorder application which does the same for which it is born for.
IF IT DOES NOT WORK ON YOUR PHONE AT ALL OR IT DOES NOT RECORD OPPOSITE SIDE VOICE CLEARLY:
Try to mix different recording settings
Enable/Disable call recording.Records all your phone calls.Play/Stop recorded audio by touch on the item.Delete recorded items.Lock recorded items to prevent from auto-cleaning.Share recorded items (only in Pro version).Confirmation dialog: Would you like to keep recorded call that is shown just after the call (only in Pro version).
Galaxy Call Recorder allows to record phone calls and is designed to be a very simple in use. As this program is using Android Standard API the two-way recording will work only on some devices such as Samsung Note 2, Galaxy S4, and Galaxy S III. For devices such as HTC and so on, a microphone will be used to record calls.
Recording calls, ability to enable/disable recording service in the settings.Showing grouped records extended with contact information such as name and icon.Disable recording when headphones on or Bluetooth device connected.Disable recording for incoming, outgoing call and for some contacts.Specify different audio sources for headphones and Bluetooth devices.Calling, sending SMS, creating an event from the app.Mark records as important, highlight and write notes.Stop recording from a notification.Specify a recording delay, a minimal length of records.Enable/disable the detailed notifications in the program.Split recording into multiple files.Locking/Unlocking records to prevent unwanted deleting.Send records to DropBox, Google Drive, and SkyDrive etc.
Call Recorder is another the easiest and fastest way to record phone calls on your android phone. You can record all calls,You can play, save and share the recorded calls. Auto call recorder also supports wav , AMR, 3gp formats.
Note: If you have a problem with the recording, please try to record with a different audio source,
which you can configure in the Audio Source option. Try to record with speaker on or off , until you find the best combination for your phone.
Record phone calls from your phone.Save your recordings on your SD card.Record both incoming and outgoing calls.
This Call Recorder Free is another free app in Google Play Store, works the same way as all call recorder app does.
Automatically record all telephone conversations.Removal of recorded conversations.Make a call to the subscriber.Add the number to your contacts.Sending of recorded conversations.Thats it from our Top 10 Free Call Recorder Android Apps compilation, list of 10 best apps mention above that doesn't mean the top app is the best and bottom app is the worst, we just compiled them into list, it might be possible that you like last app more than first, we hope you'll like these apps, we would recommend you to give all of them a try and after that whichever app you like do share it with us to know you point of view about that app.