5 Best Fingerprint Lock Screen FREE Android Apps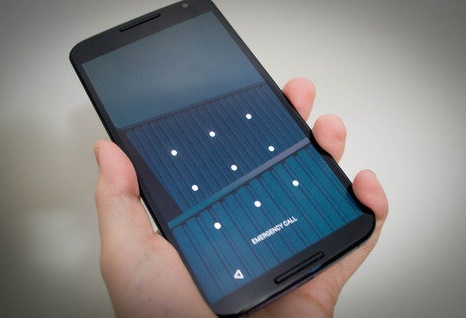 There are many ways to lock your Android phone screen, pattern lock is traditional method but useful, there is another lock screen method which is more secure, that is Picture Password Lockscreen app, which allows you to unlock your phone by drawing gestures such as points, lines, and circles on your selected picture, we have shared it before here.
Fingerprint Lock Screen is a biometric scanner in the market. Just use your fingerprint to unlock the phone screen but do remember that these apps are for entertainment purpose and a prank which fools your friends into believing that your phone is only unlocked by your thumb print. As you know the screen of your Android phone can't recognize your fingerprints, it only responds to the touch. So basically these apps do not actually scan your fingerprint. That is impossible in Android phone.
Top 5 FREE Android Fingerprint Lock Screen Apps:
 
Fingerprint Lock Free is the best app amongst all in the Google Play store, you can get the best customizable fingerprint scanner lock that actually works as a lock screen and uses your own wallpaper! Simply run the app and your normal lock screen will be disabled until you exit the app. This app is ad supported, the best thing about this app is, it shows your own wallpaper behind the lock screen, even Live Wallpapers. this app includes large, visible time and date and Customizable Features, including Themes and Fonts with adjustable positions for everything!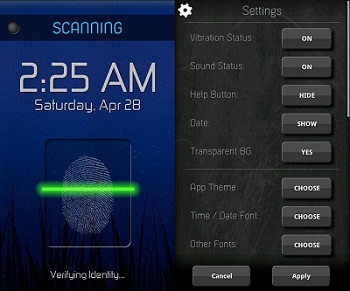 Fingerprint Lock Free Features:
Actually locks your phone by preventing button presses!
No notification bar and all button presses are disabled! (including Home and Back buttons)
Large, easy to read Clock and Date with tons of features!
Many fonts and themes with options to customize your own personal lock screen!
Set positions and sizes of the Time, Date, and everything else!
Change scanner images, including the scan area, and the scan line color!
Shows your own personal wallpaper, including Live Wallpapers!
Includes home screen Widget to run the app!
This is also good app with some new features & looks in it.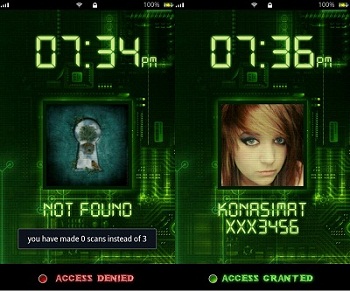 Fingerprint Scanner Lock Features:
Set names & images on lock
Set Unlock times [default is 3]
Configure Hint Options.
Can Disable Home Button for Maximum Security.
Awesome Sci-fi Biometric Lock.
Very easy to configure.
Emergency Unlock : Long press on volume down button for 3 or 4 second
Just run Fingerprint Screen Lock app and you will get the screen locked mode and it looks very attractive and it shows you current time and date with the same look and feel of Jelly Bean. Fingerprint Screen lock JB is designed for all the HD devices and supports all the other android devices as well.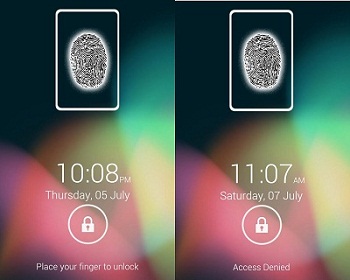 Fingerprint Screen Lock Features:
Used Jelly Bean features and looks.
Best image qualities with optimized device compatibility.
Professional looking and works with all HD the devices.
Shows date and time with (Jelly Bean look and feel).
New tricky way to unlock your device.
How to UNLOCK?
Place your finger on the scanner and hold it. Then lock icon starts blinking, count the blinks and once it completes 4 blinks release your finger and fingerprint screen lock will be unlocked. Your friends do not know the trick , you can simply pretend that it works only for your fingerprint.
Fingerprint Scanner Lock is also good app and used by hundreds of satisfied people, try this amazing app.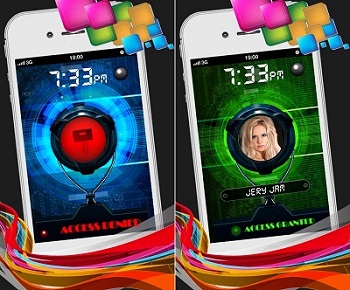 Fingerprint Scanner Lock Features:
Looks like a real fingerprint scanner.
Best animations and graphics.
Specially designed to work with new HD smartphones and tablets.
Actually locks your phone by preventing button presses!.
Customize the Controls.
How to UNLOCK?
The trick is that you have to put your finger on the thumb scanner and wait until the scanner beam animate three cycles. Then quickly remove your finger and it will unlock your phone.
Metal FingerPrintSecurity Lock gives you the feel of metal with some features in it.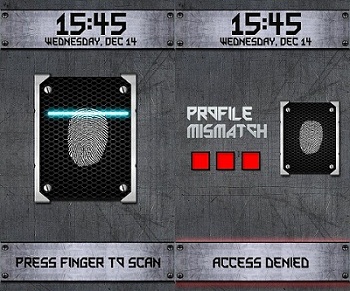 How to UNLOCK Metal FingerPrintSecurity Lock App? 
Setting the Finger Print Phone Security Environment and press back Button to start the FingerPrint. 
Lock your Phone.
Touch the lock area to unlock the fingerPrint scanner.
Place your thumb to start Scanning.
Wait for matching the Thumb.
If match not found try again.
That's all from our 5 best Fingerprint Lock Screen app compilation, get the fool out of your friends with these apps. if you like pranks, these are certainly for you. Biometric Fingerprint Security Lock makes your phone to a Advanced Biometric Lock of Sci-Fi movie and scans and verify your fingerprints. Friends, sibling, parents, even co-workers if they don't know the trick they can never unlock your phone.