Avast Free Antivirus 8 Review & Download
Avast Free Antivirus 8 released this month and is now available for download here or from the official website. It now includes an offer to install Google Drive on the computer system by default. So if you don't need it then you can select custom install in step 2 uncheck the Yes, install Google Drive.
With custom installation you can select the components that you want to install on your Windows PC. The program makes available two profiles and a custom option. It is recommended to select custom from the options to uncheck the items that you do not want to install on your system.
Components are divided into three groups:
1. Real-time shields: File shield, Mail shield, Web shield, P2P shield, IM shield, Network shield, Script shield and Behavior shield.
2. Components: Browser protection, Avast! gadget, Avast! remote assistance, Browser cleanup, Software updater.
3. Languages.
Lets have a look at Browser Cleanup:
The Browser Cleanup option is a new feature that Avast! has build in with Avast 8. You can use it to uninstall toolbars that are installed on your system. It is available as a standalone product or in
Avast under Tools > Browser Cleanup
.
See Also >> Free Online Virus Scanner and Malware Removal
You can do so by clicking on a button to start the program. It will automatically scan the system for toolbars giving you options to remove those that you do not want to use it.
Note: The tool is currently only supporting stable browser versions not beta or development versions.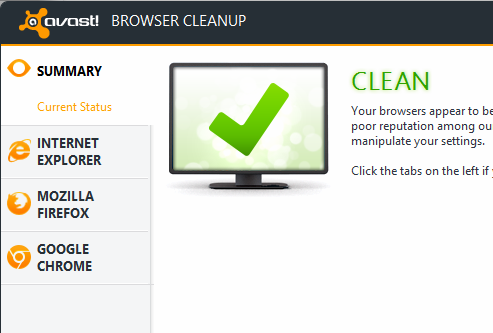 Avast! 8 Browser Cleanup
Remotely control a computer:
One of the best and new feature on this free version of Avast! Antivirus to
remotely control a computer
but not to configure the computer to be remotely controlled. For that, you need avast! Premier, a new commercial product that goes beyond what Internet Security has to offer.
So, basically you do need Avast Premier on the PC you want to control remotely, and any version of Avast on a remote PC that you want to use to control the other PC.
New Interface:
Avast! 8 comes with a new professional looking interface.The main page displays seven symbols and a menu on top only. Avast displays the system's status here, as well as options to run a scan, the software updater or overall statistics. The remaining three icons lead to commercial offerings, upgrades to add a firewall for instance to the system.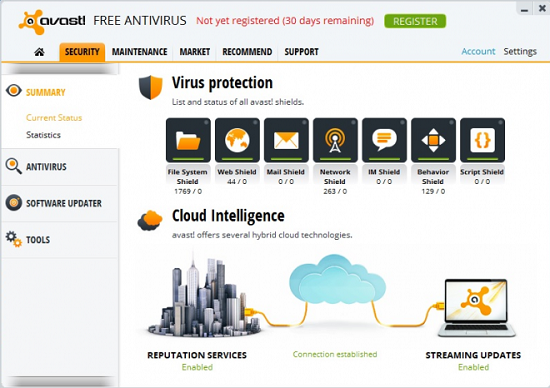 Avast! Free Antivirus 8 Interface
Changes In This Version:
Behavior Shield: now communicates with Avast!'s virus lab for preciser detections.Streaming Updates: to transfer updates sooner and faster to users.Improved Reporting: displays more and better information about false positive urls.Full Support for IPv6Avast! Internet Security and Avast! Premier Difference:
Avast! Premier has all features of Internet Security plus the following three features exclusive to the program:
Data Shredder to securely delete files on a system.Software Updater can now run in automatic mode so that updates are installed silently as soon as they are released.AccessAnywhere for making available the PC via remote connections.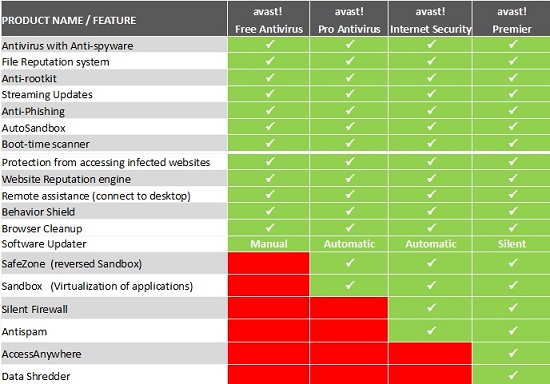 Avast! Family with FeaturesGo, download and tell us how well Avast will perform in antivirus labs – the last version did well in most tests but not in all.
>> Download Avast! Free Antivirus 8
Free Version Malwarebytes Anti-Rootkit Beta How to Protect USB Pen Drive from Virus or Malware Attacks Color Coding Cat 5e and Cat 6 Cable Straight Through and Cross OverBitdefender Internet Security 2013 Review