How to Protect USB Pen Drive from Virus or Malware Attacks
USB Flash Drive is now days one of the major gadgets of all guys where they can carry all important data of their needs whether could be project files, songs or malware in it, Pen Drive is becoming the main threat for Anti Virus Companies, Virus attacks against computer systems can originate from a variety of locations, be it via email, network attacks, websites or malicious files that make their way on the computer via USB devices.
While modern antivirus solutions keep out the majority of threads from systems effectively, provided that they are updated regularly and use various methods of detection, it is safe to say that there is not a single program on the market that can stop all threats with a 100% guarantee.
See Also >> 5 Tools to Protect PC from Infected USB Pen Drive
As we discussed before USB devices can be used to spread malware on systems and networks. One of the more recent versions of such an attack was
Flame
which spread to other systems over local networks and USB devices. The nature of USB Flash drives or Pen Drive makes them ideal for certain kinds of attacks, especially on high security targets that are not connected to the Internet at all or use security that is difficult to control.
We have
Phrozen Safe USB
is a new program or tool for the Windows operating system that you can make use of to change the status of USB on a PC. It will only take two clicks to change the USB status in the following way: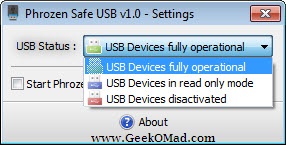 USB Devices fully operational – Which is the default mode means that USB devices work just like they usually do on the system. You can copy, modify, move or delete files etc.
USB Devices in read only mode – Which is a restricted mode where you only can read its contents. Therefore no virus could copy itself to your computer to spread. Other cannot intentionally try damage, delete or modify the contents on your computer. This mode prevents that data can be copied to USB devices, for instance to steal data from a PC or spread malicious software.
USB Devices deactivated – Which means Disables all USB storage devices from being recognized. In this mode you are not able to see USB Storage devices anymore. In this instance you don't want anybody to export data or to import harmful content from your computer to USB Device
Also see >> How To Make Android Phone as a Bootable USB To Install Windows
Phrozen Safe USB can be configured to run itself at windows startup. In this case you must have disabled the Microsoft User Account control (UAC) or it won't start as it requires administrator privilege to modify the Windows registry. It also makes available its functionality in the right-click system tray menu.