Personal Safety Mobile & Tablet App For Emergency
We have so many application installed on Smart Phones and most of them are useless, do you have any safety app which can save your life and
protect
you from danger at the time of emergency, there might be many situations, whether you are walking alone on the road or traveling unknown places, it is very helpful for working women, though they are not safe most of the time when they are alone.
Just imagine when you're in trouble, what if you get in a situation like you are kidnapped, where you want to let someone know your location without the ability to make a call with your phone? so before getting into such trouble its better to have an app installed.
There is an app called EyeWatch, which works just at the tap of your finger, and most importantly it allows you to trigger the instant emergency alerts to your trusted emergency contacts along with your location, audio or video recording of the situation and other details.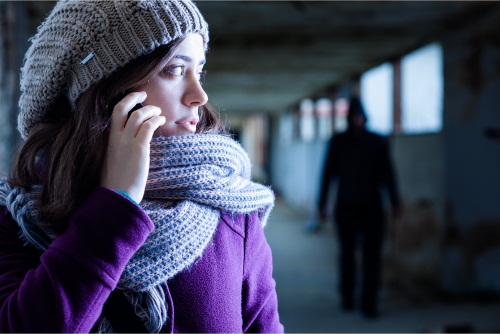 Girls Are Not Safe at Unknown Places
See How It Works:
1.
First Install this EyeWatch app [Link below], after you need to set up the list of emergency contacts, phone numbers and email addresses of those you want to alert at the time of trouble or emergency.
2. Now you are ready to go, we'll recommend you to make a shortcut on your phones home screen for easy access to your app. If you face any trouble or something goes wrong, you just have to tap any of the four buttons in the app, Personal Alert, Security Alert, Medical Alert or Travel Alert, and it will send your details to your added contacts along with your location.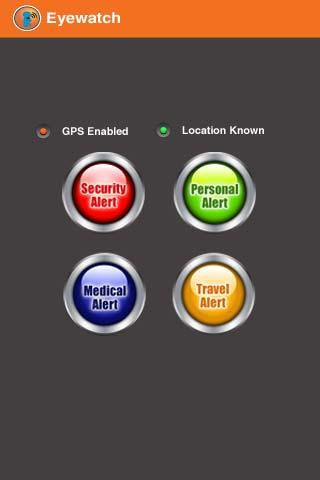 EyeWatch App Buttons
3. After tapping the button, a screen will appear and will display that your Alert Activated, complete with location, audio visual information and anything else you've configured will be sent.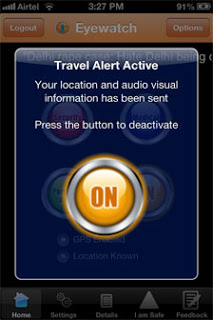 Alert Activated
4. With one tap, the app will email each one of your emergency contacts you've added to let them know you're in trouble. Your contacts can visit the eye-watch website to have your exact GPS location or listen captured audio or pictures. With just one click on the link in their email they can see your location on a map.
5. The app also supports phone call so that you can just tap the Call button in the app to get them on the phone, unlike look up the contact and type in the number. It's automatic with only one touch of the button.
Eyewatch App Features:
Turns your smart phone into your personal security device.Sends SOS alerts even if you are not connected to GPRS or 3G.Tracks users location using both GPS and Network Based Location, only during alert.Provides back-up when you're out of coverage reach and sends SOS alerts finding the nearest network.Alerts your loved ones without drawing anyone's attention.Immediately captures audio-visual information of the situation to share with your Emergency Contacts.Safety Confirm – Upon clicking , Guardians get a message, with users location.
Install EyeWatch for Android | iPhone | Blackberry | Nokia Ovi