FREE Online Webcam Recorder can Save Videos Offline / Online
Secam.tk is an application can record your webcam online or offline (Unlimited Free) which works on Windows platform. You can use webcam to record videos for security purpose with this application which not only
store videos offline but also online
.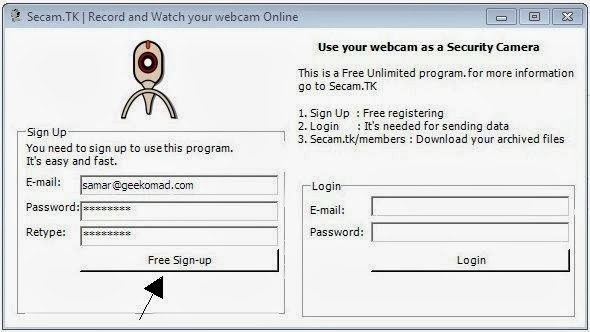 First download the application from the official website (link below), it's a portable application which means don't require installation to your Windows PC, also, no need to register your member account from the site, secam.tk application size is only 350kb which will be downloaded in seconds without online installation.
See Also >> FREE App to Watch Live Webcam's Video Over Internet for Surveillance
As you can see it on above image that its application first gives you to create your free account within application, after entering user E-mail and Password you'll be able to enter into its dashboard which is simple without so many complications, your webcam will be detected automatically by its application without making manual selection.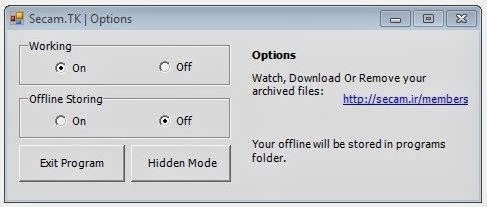 Secam.tk dashboard gives to two options: first, if you want this application to work then turn it to On or don't want then turn it to Off, second option, allows you to store videos whether Offline or Online by choosing that button. Videos are stored online can be watched or downloaded also from the website just by login with your member account where you can also save a copy of the videos on your PC or USB drive.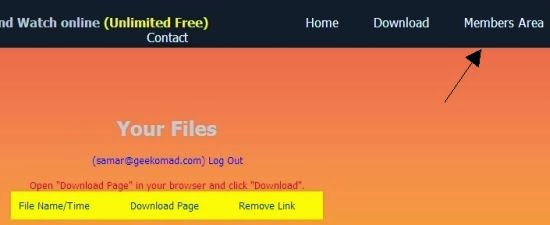 Whenever you need to check your recording, you can check your stored webcam videos from the website, simply click on the members area to login with your E-mail and password which you created at the time of setup the application, you'll be redirected to your account where you can access your saved videos, you also can download them, watch them online or remove them from your online account. Secam.tk gives you free unlimited space so you don't need to delete them every time before saving new videos.
Secam.tk Features:Free Sign-up with Unlimited Space for Online storing videos.Less Internet usage by its application.Offline and Online storing capability.Small size program without complicated options.All in 1 minute videos compressed files.
Secam.tk link