FREE App to Watch PC Webcam's Video Over Internet for Surveillance
Everyone has various reasons to record or surveillance video over internet, some of them need to watch live videos of their child's activities while they are sitting at the office over internet or want to watch live videos or record unlimited 24×7 videos over internet like CCTV of your branch office. If you want to use your PC's webcam for surveillance purpose or watch baby sitter is taking care of your child or not then you can hide your camera somewhere out of the reach or the place where nobody sees generally. 
Some webcam has LED's to indicate that they are on or they recording videos that also can grab the attention of others so if you are using it for surveillance then you can use black color electric tape to cover the webcam LED with it and also don not forget to turn of the monitor.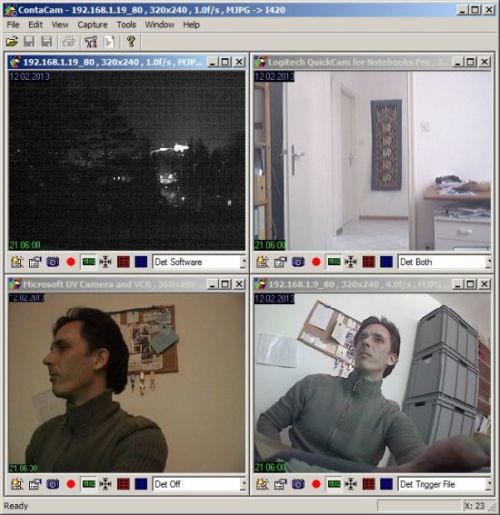 ContaCam is a free video recording or surveillance application that works as a charm on Windows, it can be used as a live video streaming of your house or office or can be used as CCTV for surveillance purpose. It uses your PC's webcam for video streaming so you don't need to buy any special
dome camera or DVR
hardware device for CCTV surveillance. You also have an options like
live snapshot webcam or manual records / snapshots
.
See Also >> Use Android Camera As IP Webcam For Surveillance With Free App
ContaCam is a CCTV Security Surveillance with motion detection and 24 hours digital video recording (DVR), motion detection events presented as animated thumbnails in your web browser,it is also capable of actions like FTP upload, send email (SSL/TLS or STARTTLS support) with attached movement file or run an external program which is installed on your Windows.
Settings for ContaCam:
There are four easy settings for ContaCam to record videos: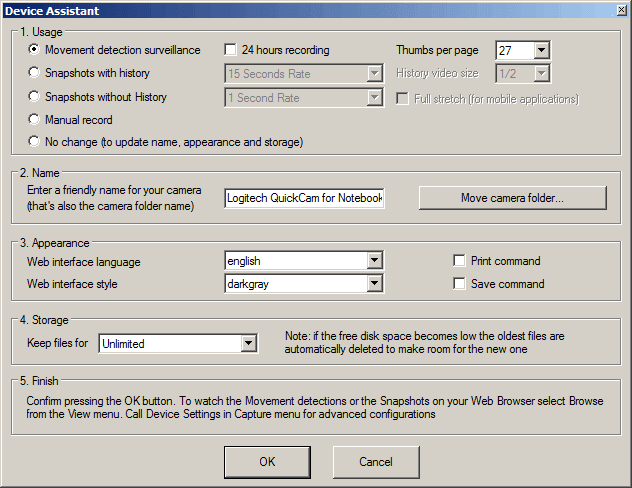 1. Usage: If you want recording only on movement then select first option movement detection surveillance, you have snapshot with history and without and manual recording, also you can record videos 24 hours with 24 Hours recording option, just select it sit relaxed, it'll record your webcam's videos 24 hours and you can watch them later.
2. Name: Here you have freedom to type your desired name of the camera so you can recognize it later with just by name.
3. Appearance: It gives you options to choose the appearance of your ContaCam software, you can select your language and interface style.
4. Storage: Here you can choose storage space for your recorded files for limited time or for unlimited time, if you choose unlimited then it is capable of deleting old files to make room for new ones when the disk space becomes low.
ContaCam Features:
Motion detection events presented as animated thumbnails in web browser.Motion detection actions like FTP upload, send email (SSL/TLS or STARTTLS support) with attached movement file or run an external program.Live webcam with possibility of history tracking.Manual records and snapshots (video game captures, movie recording, …Integrated web server with password protection (internet or intranet)Supported are Webcams, WDM and DV devices and MJPEG Network cameras (IP cameras)Remote watching by enabling port forwarding or using DropboxUnlimited parallel cameras setupAudio storing for 24 hours recording and on detection (no audio support for IP cameras)
And finally you can finish the settings after making changes in the device assistance, it is simple for novice but has many features for experts in global settings section of ContaCam for those who know the settings quite well.