5 FREE SMS Sending Websites Without Annoying Signup & Login
SMS is a popular service on mobile, when we need to say something but we can't speak infront then this is the best way to use SMS, while using SMS service everyone always finds it for cheaper price or if it is possible to get it free of cost then look for it. However, way2sms has a monopoly in its category of FREE SMS on mobile phone but requires registration to send SMS and everytime you have to login to send SMS.
Now there are many websites available where you can send free unlimited sms without registration, which is good because you don't have to let them know your mobile number or email ID, means no promotional SMS & Emails, because you know that once they get your Email or mobile number they try to promote their brand by sending spam emails which nobody likes. We have here compiled 5 best and popular websites without requiring registration or login.
BollywoodMotion is the best website amongst our list, our major attraction on this website because here you can send long unlimited SMS of 500 characters with real time SMS delivery and all for free without registering on their website.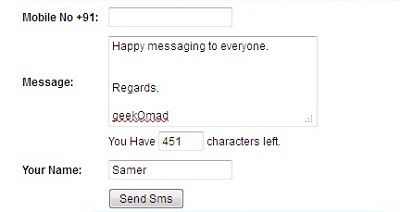 Features:
No Registration or Login required.
Send Unlimited 500 Characters SMS.
Check Message Delivery Report in Real Time.
Don't Include Any Ads Along With Your Sms.
High Speed Message Delivery System.
No advertisement in SMS.
afreesms is also awesome, it is for the people who want to send Free National and International SMS, it also doesn't require registration or login, but maximum 160 characters allowed in one SMS at a time.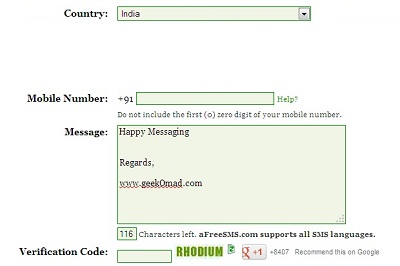 Features:
Send Free SMS Worldwide.
No Registration Required.
It Supports All SMS Languages.
Fast SMS Delivery.
e-FreeSMS is also a good option for those who like to send SMS worldwide to their loved ones living anywhere in the world also without registration, they have two servers in which you can select at the time of sending, Gateway 1 or Gateway 2, it means if one server is down you can use another for the same, one thing which we didn't like about it its characters limit which is only 120 characters.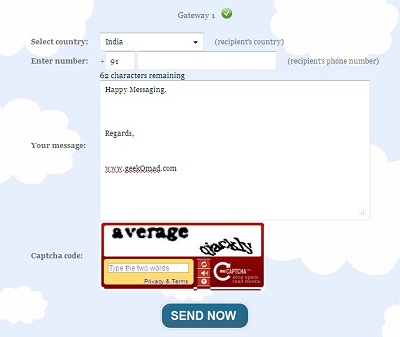 Features:
No Registration.
Send SMS anywhere in the world.
Two gateways to send SMS's.
Fast delivery system.
SMSTI is simple looking site with few advertisement on their dashboard, one of the best option for those who like simplicity but faster performance, you can send only national SMS with limit upto 160 characters.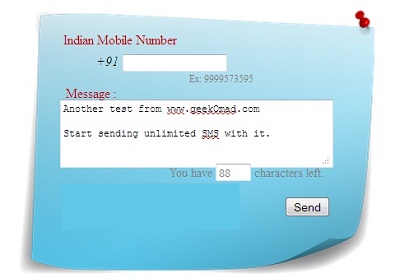 Features:
No Registration or Login required.
Check SMS delivery in real time.
High speed delivery system.
Sea SMS is last but not least, it has 3 unique features which none of them has, first is worldwide MMS support option. It sends SMS & MMS worldwide for free. It also doesn't ask you for registration, second, you can send flash SMS also which only flashes on the screen of the recipient and doesn't save on their inbox, third, it has almost all major Indian languages support option which is good for non English readers.
Features:
Free SMS & MMS worldwide.
No Registration.
Send SMS in major Indian Languages.
Sends Flash SMS.
Bulk SMS's in cheap rates.