How To Remove Or Uninstall Fake Microsoft Security Advisor
Microsoft Security Advisor, Center or Essential all are the same rogue [fake] spyware program, it displays fake virus and malware alerts to convince users to purchase a full version of its removal program. The program is in no way associated with Microsoft Corporation. It only uses the name Microsoft to attract people to make them believe that its genuine. Once your Windows PC is infected with this program, removal can be quite difficult. Simply uninstalling the program will not work, because it uses hidden files that will automatically re-install it once you restart your computer.
It Will Simply Display a Message:
Microsoft Security Essentials Alert:
Potential threat details
Microsoft Security Essentials detected potential threats that might compromise your privacy or damage your computer. Your access to these items may be suspended until your action. Click 'Show Details' to learn more (See screenshot of the fake alert).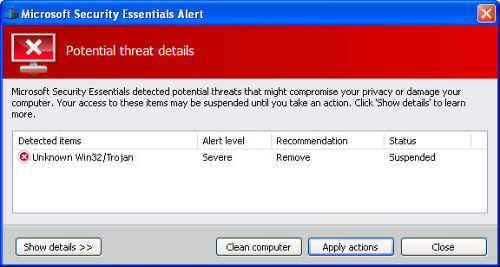 Fake Microsoft Security Essentials Alert
How to Remove Fake Microsoft Security Advisor Alert:
Step 1. Click Start > Control Panel > Add/Remove Programs window. Find the name Microsoft Security Advisor. Click on it to select and then click Remove at the top of the window.
Step 2. Now press Ctrl+Alt-Del  to open the Task Manager. Select the processes tab. You will need to scroll down and find the following processes, and stop each one. mssadv.exe msavsc.exe msscan.exe msiemon.exe msfw.exe msctrl.exe As you locate the processes, select them and click End Process. Repeat this for each one to end the process, then close the Task Manager.
Step 3. Click the Windows button + R to goto Run. Type cmd into the dialog box and click OK. At the command line, type regsvr32 /u eeuydc.dll and press Enter. This will unregister the Microsoft Security Advisor DLL file, allowing you to delete it permanently.
Step 4. Click the Start and type eeuydc.dll in the search box, and press enter to begin the search. Delete the file once you locate it. Repeat this process for the all following files: mssadv.exe msavsc.exe msscan.exe msiemon.exe msfw.exe msctrl.exe
Step 5. Finally Restart your Computer.
To confirm that this fake antivirus spyware program still in the computer or not, open Add Remove Programs and find the same name, i hope you will not find there anymore and this alert will never come.
Fake Microsoft Security Essential Alert Removal Tool:
Online Virus Scanner: