Nokia X: Nokia's First Android Phone Launched but Without Google Play Store
There were so many speculations before launching Nokia's first Android phone (Nokia X) that how will it look like and what changes will they make in their first Android device but finally Nokia X launched in India.
Nokia announced the Nokia X Android phone that will run almost all Android apps. The Nokia X and the Nokia X+ which are 4-inch IPS LCD display with a 480×800 pixel resolution smartphones with 512 MB of RAM, a 1 GHz Qualcomm Snapdragon processor and a 1,500 mAh battery. The Nokia X+ will allow for expandable memory slot up to 32 GB. Nokia X supports Bluetooth, Wi-Fi, GPS with A-GPS, EDGE, GPRS and 3G connectivity options. And, the price around in India Rs. 8500+.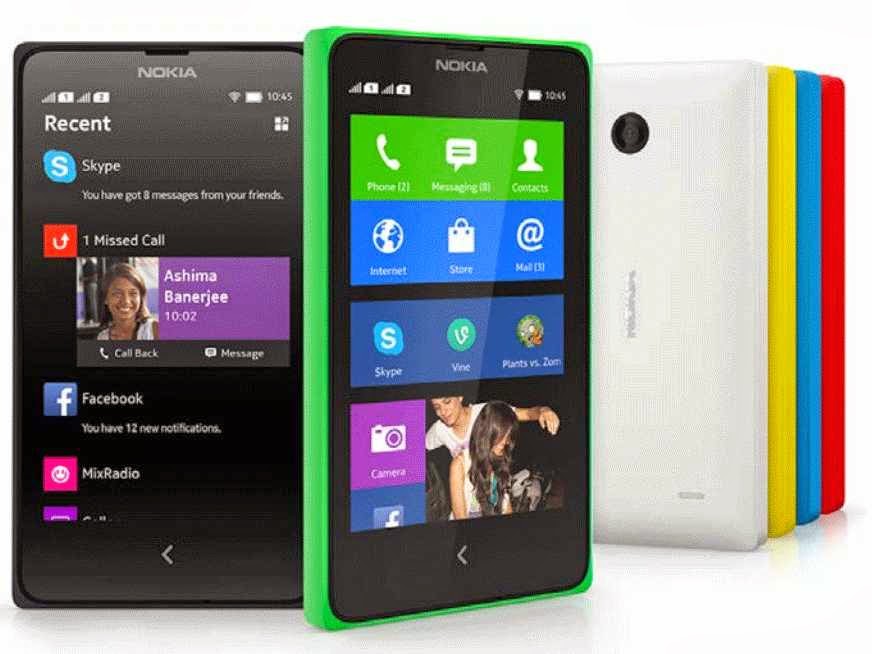 The Nokia X is built on the Android Open Source Project (AOSP), version 4.1.2 Jelly Bean. But, it has come out without access to the Google Play store and its million-plus apps. So now the questions is, how will consumers access all Android apps on Nokia X Android phone?
Three Main ways to Access Apps on Nokia X:
Nokia's head of developer relations Amit Patel said that there are three different ways developers can distribute apps for the Nokia X, which are also the same ways consumers can install them on their phones: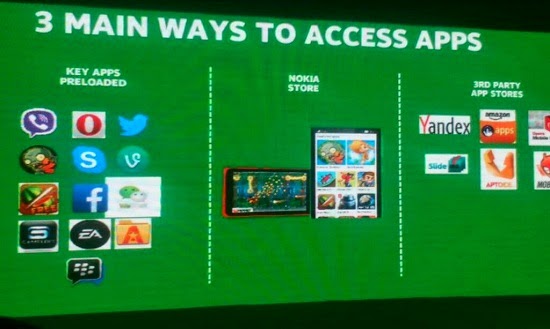 1. Key Preloaded Apps:
A number of key preloaded apps come including Viber, Skype, Vine, Opera Mini, Facebook, BBM, Twitter, WeChat, and also number of games from EA and Gameloft.
2. Nokia Store:
Nokia has its own selection of apps in its app store. Nokia says developers can use their standard Android Application Package Files (APKs) which are sort of zipped-up software "suitcases" for transporting app and related software, and basically drag and drop them into the Nokia Store. Nokia has a tool that will scan the app for compatibility, and says that most apps won't need to change a thing.
3. 3rd Party App Stores:
Instead of Nokia app store, users can also download and install apps from Yandex in Russia and GetJar, these are the biggest Android app providers in the world. Third-party app stores will be available as links through the Nokia store, allowing users to download just about any app from anywhere.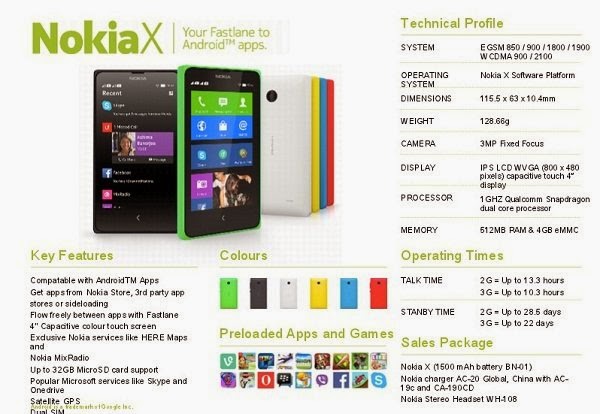 Also, Nokia X users will be allowed to "sideload" apps by downloading and installing APK's (Android application package files) directly from developers. As I stated above that Nokia X is built off of the Android Open Source Project version 4.1.2 Jelly Bean which means it will run any Android apps compatible with that version of the operating system (and up). 
Basically, Nokia didn't attempt to get a Google Mobile Services (GMS) license from Google to use the Google Play store or any of Google's Android core apps on its Nokia X device. Now Nokia will create its own application programming interfaces (APIs) to handle basic functions on the Nokia X that support consumers as well as developers.
The best part about this Nokia X Android phone is that it supports APK file, so it will work on top of just about any version of AOSP. Nokia says they will not go out of its way to block Google apps like Gmail, Google Maps and Youtube etc.