Change Windows 7 Into Android Jelly Bean 4.2 Like Look
If you want to experience Android jelly bean style but your old Android phone doesn't support upgrade to Jelly Bean 4.2 version then don't worry, you can transform your Windows 7 PC into Android 4.2 with skinpacks. Which makes your Windows 7 PC look like Android jelly bean desktop.
This Skin Pack works on Windows 7, Windows 7 SP1 – 32 Bit, 64 Bit – All Language and All Version and
remember if you are on windows 7 starter and home basic first you need to patch and Unlock Aero effect of your desktop
to get the aero effect enabled. You can
download the unlock aero effect
.
Important to know: Before installing the skin pack on your Windows 7 PC, its safer that you uninstall old or other version of skin packs before installing this jelly bean skinpack. Installation process is simple, just follow the on-screen instructions. After the installation restart your Windows PC to enable and use this Jelly bean style on your computer.
After successfully installation you will have a new boot screen, login page, desktop and UI gets changed with this Jelly Bean look. You will also experience the same Android set of widgets like for Time, Weather, Google Search and Music. (See below).
See Also >> How To Make Android Phone as a Bootable USB To Install Windows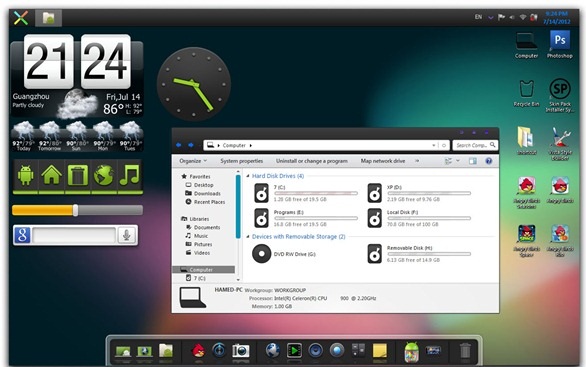 Jelly Bean Desktop on Windows 7
It was the one of the easiest way to have the feel and look of Android Jelly Bean on your old Windows computer without changing anything. Its tested app and worked fine on Windows 7 64bit Home Edition PC. This app is available below for free.