Krrish 3 Official Game Launched for Windows Phone 8
Krrish 3, the game launched on Windows Phone 8 before launched of Krrish 3, Krrish 3 movie is about to launched on November 4, 2013. Krrish 3 is a sequel of Krrish and is again made not only for kids as they like Hrithik most as their super hero but also for complete family.
Also Read >> Chennai Express Official Game Launched For Android & Java
Krrish 3 movie is based on super hero theme where hrithik saves people's life whenever they are in need or in danger. Krrish 3 movie is full of special effects, this game gives real feel of the movie Krrish 3 before release. its official game trailer video released on Youtube.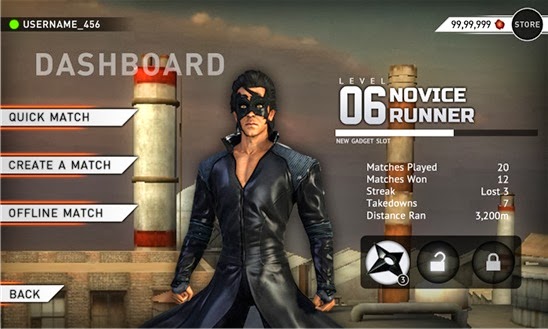 This Krrish 3 game offers not only offline play but also online to give it Multi player experience, Multiplayer works best on 3G connectivity and Wi-Fi as i tried playing online it works perfectly like offline.
While playing game, gamers can play as their favorite character from the movie from Krrish, Kaaya, Kaal, and Frogman.
Krrish 3 game features Mumbai, explore the city of Mumbai through its three distinctive districts (New, Old and Industrial). All three districts are beautifully designed to give ultimate experience gaming on touch devices.
While playing this game on Nokia Lumia 520 and 720 (Windows Phone 8) , i came across many places where this game stuck and do not respond to the touch, hope it will be fixed on its next update otherwise great game with such a nice graphics on Windows Phone 8.
Join KRRISH in his epic battle against Evil as he faces off KAAL & FROGMAN to save humanity. Immerse yourself in the stunning graphics as you Climb, jump and slide across the Mumbai Skyline. Now Available on Android also.
Krrish 3: Windows Phone link | Play Store Link