Free Tool To Backup & Restore Windows 7 & 8 Device Drivers
One of the main reasons to backup device drivers that your windows is corrupt and you want to install fresh windows on your PC but you don't have the Driver CD that came with the computer or they are unavailable online or available online but with huge amount of size to download. There is also a problem for you if you don't know your device drivers make which you want to download if the Windows operating system is reinstalling.
There is an portable app called Double Driver, Double Driver is a very simple and useful tool which not only allows you to view all the drivers installed on your system but also allows you to backup, restore, save and print all chosen drivers.
Double Driver is portable app which means doesn't require an installation on your windows PC, it runs directly from its executable file and does all the task you need. Double Driver supports Microsoft Windows XP/Vista/7 & 8 (32-bit or 64-bit) Operating System.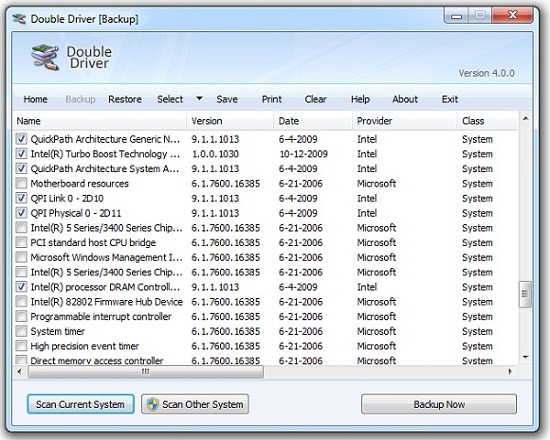 How Double Driver Works:
Double Driver analyzes your system and lists the most important driver details such as version, date, provider, etc. All drivers that are found can easily be backed up with one
Backup Now
button
, and the application can easily restored those drivers when required by clicking on the top
Restore button.
 Double Driver Features:
List, save, and print drivers details.Backup drivers from current Windows.Backup drivers from non-live/non-booting Windows.Backup drivers to structured folders, compressed (zipped) folder, and self-extracting capability.Restore drivers from previous backup.Portable (no installation required).Download Double Driver Here