FREE Chat on LAN with Mossawir LAN Messenger Without Internet
Chatting with friends online is the best way to enjoy sending and receiving texts but what if when your friend is in the same network in your office or at home on the other side and you both don't have internet connection, I know you are here for that reason so i would say you still don't need to worry about because there are many free intranet (local network) chatting applications which lets you chat or messaging with your loved one on the same network but I chose Mossawir LAN Messenger, an open source free application because it is simple to use and light on your system and you don't need an internet connection to use this application.
Mossawir Network Messenger is a LAN messaging and chat program which allows send and receive messages between users on a network peer-to-peer with no need for a server. It has features like; sending and receiving messages with smileys and can send files too.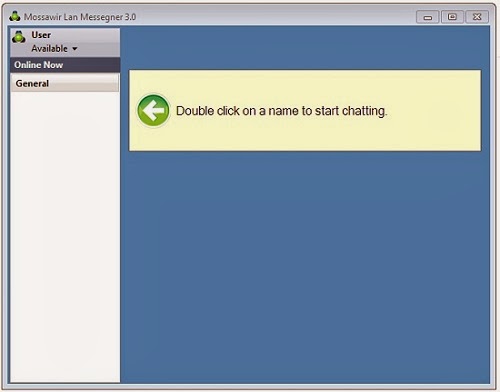 As i said simple because you don't need to configure it on your network, Mossawir LAN Messenger automatically detects users in the network. If you are using this application in your office and chatting one of your colleague then you don't need to stay alert all the time because it gives you option to minimize in the system tray, whenever any messages arrives you'll get a notification, because it runs in the background.
Whenever you need to send files to other side, you can send it easily while chatting with your friend on the same window and your friend will get the notification, he/she can accept or reject your file.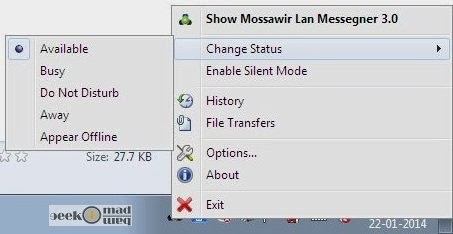 You also can change your status on the network with Available, Busy, Do Not Disturb, Away and offline. It all understands your mood, if you don't want to get disturbed then change your status accordingly and don't need to exit that application.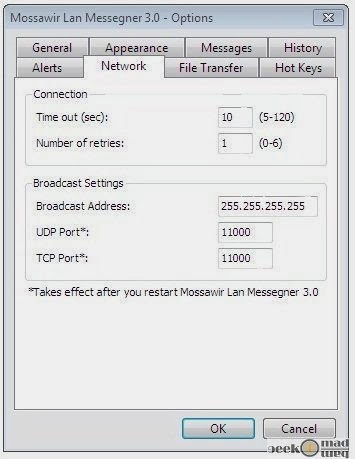 If you are an expert user and want to change some settings as per your requirement then it gives you freedom to make any change in the settings, if you are novice then let it stay in default settings.
Features:
Chatting with smileys.
File Transferring.
Grouping.
Private Message Sending.
Automatically Detecting On LAN.
Availability Status Update.
Maintain History.
Saves conversation.
 
Verdict:
I really enjoyed using this very simple application, it doesn't require to sign up and login, search users automatically on network, no need any technical knowledge of networking, no internet connection required and the most important thing is open source free application. Must try this free application, i promise you, you'll enjoy and get addicted.