Send Self-Destruct Messages: Destroy Itself After Being Read
NoteDIP is a free service to create self destroying notes. This is a great way to send secret messages online with notification. You'll get an Email notification when your note has been read by the recipient, and, that note will be destroyed after, so that note can't be read or access again.
NoteDIP is good service for those who want to send messages which can't be used against them as concrete evidence of their communication. We have this kind of service of mobile called flash SMS which does quite similarly.

NoteDIP 3 steps simple service which creates your secret messages without making it complicated, there are many other online software which does the same task but not as simplest as NoteDIP does.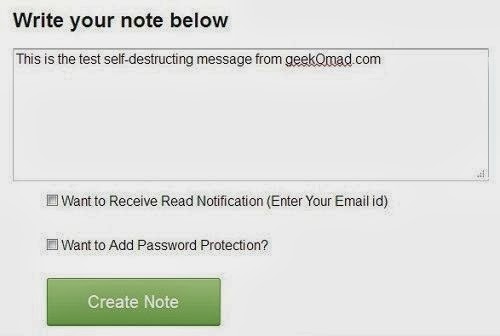 Just open a website from below link where you'll find a box to enter your note, after entering your note you'll find below to whether receive notification via email or not and if your want to make it more encrypted then you can make your note Password protected.

After making your note, click on Create Note button to create a link for your note, after clicking on the button you'll receive a link like above, which you can send it via email to someone.

When your link have sent to your friend, when he/she opens the link would be able to see the message simply like above.

When your note has been read, you'll receive a notification via email with date and time if you have selected while creating a note like above we receive while reviewing NoteDIP.
Overall a great free online service with password protection, must give it a try at least once.