How To Download Android .APK File From Google Play To PC
Google Android Play Store has millions of apps available for every users requirements, as Android users are increasing where latest Android smart phones are knocking into the market, all of them require internet connection to access their app and to install app from Google Play store, sometimes we have internet connection on our PC but our GPRS or 3G pack validity finished, now you can download your favorite apps on Windows PC and then you can install those app on any android phone smart phone or Tablets with the help of this free app APK Downloader, previously we have shared
5 Sites To Make Free Android App, No Programming & Coding Skills Required
.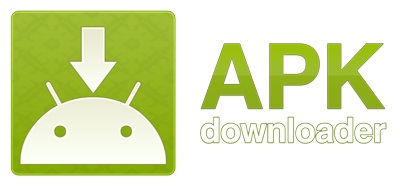 APK Downloader gives you the freedom to download .apk files from Google Play Store even that app is not available in your country or not compatible with your device. Which is the best thing you can get, that doesn't matter you are living in India or US.
Remember that
: for now it is only supported with Chrome Browser because of its extension to run, so if you don't have it
Download Chrome
first,
Firefox , IE , Opera is not supported!
How To Download App From Google Play:
Requirements:
2.
Download and install the
Device ID app
on your Android device.
Steps to Install APK Downloader:
Step 1: After installing APK Downloader Chrome extension, you'll see a windows like below.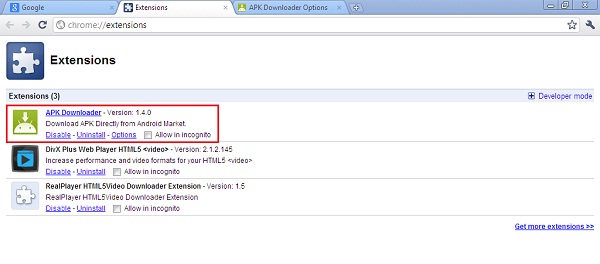 Step 2:
Now you need
Device ID
of your Android Phone to put into this app to perform download,
Download Android Device ID
App from Google Play or try
Other method to get Device ID.
Open dial pad, Type *#*#8255#*#* ( 8255=TALK ) and Call. If it opens "GTalk Service Monitor", find lines that begin with JID and Device ID . Your email is JID , and your device id is a string that after android- prefix
For example: if it shows android-1234567890abcdef , then your device ID is 1234567890abcdef
Thats it, now come back to chrome APK Downloader extension to put that ID.
Step 3: Open Chrome browser, go to Tools >> Extensions. Find APK Downloader. At the end of its description, you'll see a link to Options page, then hit the options.
Step 4: Now here you have to put your Email address and the password and Device ID, which we get before from your Android phone, and then click Login button (see below).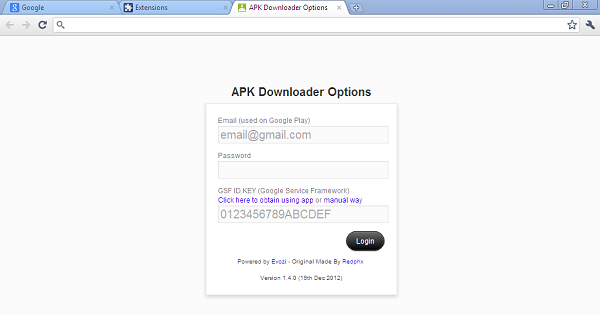 Steps 5: After logging in, you can now browse any Google Play App and start using APK Downloader, and click the APK Downloader icon in the Right Address bar to download the .apk file to your computer (for example: YouTube), then press the APK Downloader icon on address bar ( see screenshot)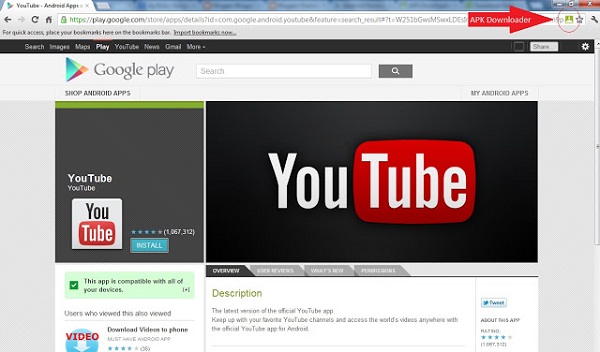 Now you can start downloading any apps (.apk files) to your PC whether it is not available in your country, then you can transfer them to your Android smart phones or tablets and install them easily.
Updated July 2013:
We are receiving complaints for the problem in downloading .apk files from APK Downloader method so we have Updated This Post with new application called Real APK Leecher and tested it very closely for our audience, try this working method and do tell us your experience with Real APK Leacher Application.
Method # 2. Real APK Leecher:
This Real APK Leacher works almost the same way as previous app worked but still we'll share the procedure here, follow the simple steps:
Step 1. First Download Device ID app or check your Device ID with the command *#*#8255#*#* ( 8255=TALK ).
Step 2. Download the application Real APK Leecher v1.3.5.
Step 3. After downloading Real APK Leecher zip folder, extract it to any folder, open the folder and find the file name Real APK Leecher.exe, run that file and you'll see the options like below screenshot.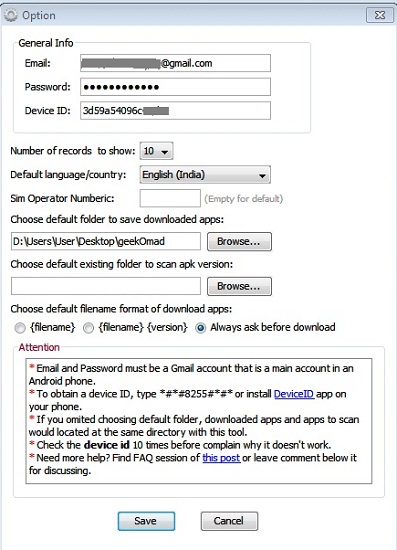 Step 4. Type your Email, Password and Device ID which we discuss above (with the device ID app or with command) then click on Save button to save the settings.
Step 5. Now you'll see the Main screen of the application where you can type the name of your desired app in the search box, type the name and press enter, it will show you 10 apps with the same name where you can see your app then Right click on your app, you'll find the Download this app option, just click on it to start downloading your app like below.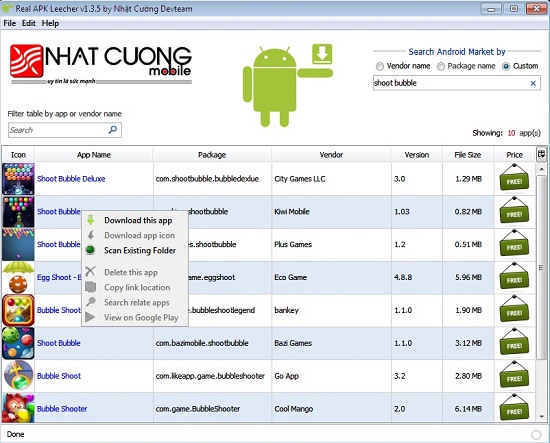 Step 5. Now your app will be downloaded from Google Play Store to your PC's folder which you chose earlier in the option (In Step 4).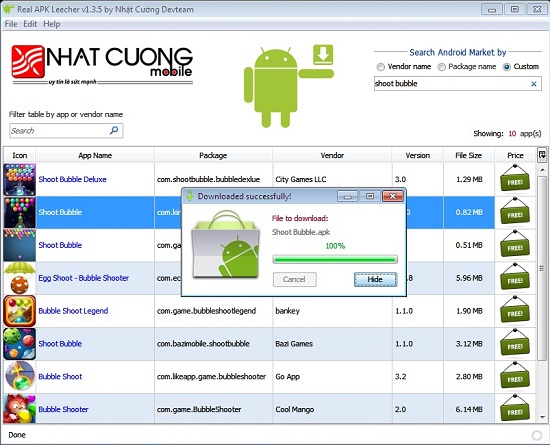 Step 6. Once your downloading is completed, you can copy that .apk file from the folder and paste it to your Android phone or Tablet SD card and start installing from there, enjoy the app.
Doubt:
Why do I have to enter my email, password and device ID? Does it store or send my password to another place?
Ans: Information from the developers website: The chrome extension only stores email, device id and Android Market cookie in Chrome's local storage, on your computer. To be able to get Android Market cookie, it needs your email and password to login at https://www.google.com/accounts/ClientLogin . After it's done, password is not stored, email is stored to display on Options page, Device ID and Cookie are stored for later requests. I do not send those information to another sites.