Change Created, Modified & Last Accessed Date & Time of Files & Folders
Time Stamp changer allows you to change date and time of your saved files and folders from your Windows PC. Whenever a user create an file or a folder on PC that saved item is marked with a timestamp in its metadata. This task is done automatically by the Windows operating system which creates exact time of file creation on that user's computer. And, when you again access that file and modify any changes then the information of these task is also recorded with
last modified and accessed date and time
.
You can see information about creation, modification and last accessed date and time of files & folders easily just by selecting particular file and checking its properties, you'll find all information there. If you want to change access time or modification time and date which is not possible on Windows PC without any third party software.
Smart Timestamp is a portable application which perform all the task for you, it is a freeware software less than 1 MB.
Smart Timestamp is simple easy to use software, download it from below link and run it, it is portable application which means doesn't require installation on your PC.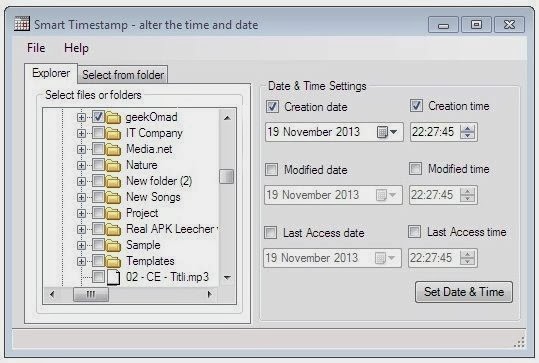 It has two tabs on left, first 'Explorer' and, second 'Select from folder'. The Explorer tab gives you list of your hard drives partition with ability to select each file and folder from your computer, where you can change timestamps of any selected items, just select that item manually then you can edit the creation, last modified and last accessed date and time of that selected item, finally you need to click the button "Set Date & Time" to take affects your changes.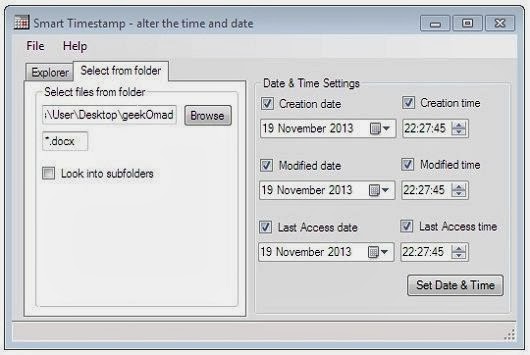 Second tab called "Select from folder" is more specific way to change timestamps of all the files of particular extension in a folder or in subfolders. It works in a simple way to change the timestamp, you just have to type the extension of your files which you intend to change timestamp, we tested it on .docx extension and it worked perfectly.
See Also >> FlicFlac: Free Software to Convert Audio Files Format to Another
It is best for those users who keeps all their important files in one folder which contains all pictures (.jpg), documents, audios and videos. First browse your folder in which you want to change its timestamp and then simply type your desired file extension, the best thing here is that you only have to type the file extension of which you want to change timestamp, all the files with same extension will be changed timestamp with this free application except all files.
We tested Smart Timestamp on Windows 7 but it also works on Windows XP, Vista and Windows 8 operating system.