7 Free Video Calling & Messaging Apps For Android & iOS Phone
Technology is making everything faster & easier, as we use several types of apps on our Android & iPhone, now days almost everything you think is available for your phone and most of them for free, so now we have 7 best Android & iOS apps for video calling for free which can make your friends and family closer than ever, if your family member or friend is out of country and difficult to catch them on PC so these apps saves your telephone bills with ease, talk to them any time with video call feature while walking on the road or laying on the bed, message them on their app without deducting the balance of your account.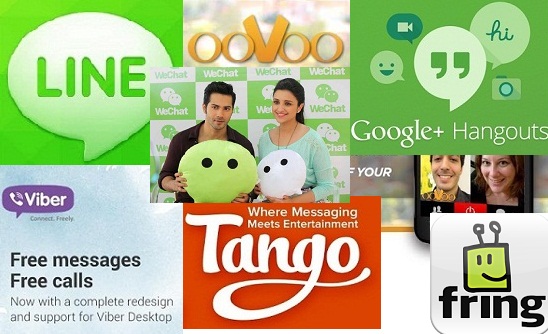 7 Best Android & iOS Apps For Free Video Calling:
Viber is the best app available on Google Play & iTunes store, with this Viber app you can text, call, and send photos and video messages worldwide for free. The best thing about Viber is its available for Android, iPhone, Blackberry, Windows Phone. On Viber, your phone number is your ID. The app syncs with your mobile contact list, automatically detecting which of your contacts have Viber.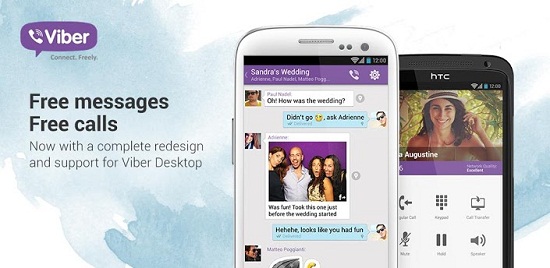 Main Features:
Free calls with HD sound quality
Groups with up to 40 participants
Send stickers and emoticons, making messaging fun!
Respond immediately to messages using quick reply
Push notifications guarantee that you never miss a call or message, even when Viber is off
No ads and 100% free.
Wechat is the fastest growing SNS in the world. WeChat offers Free texting, voice messages, and video calls for free. WeChat has almost all the features available which you expect with fast, reliable, private, and always on.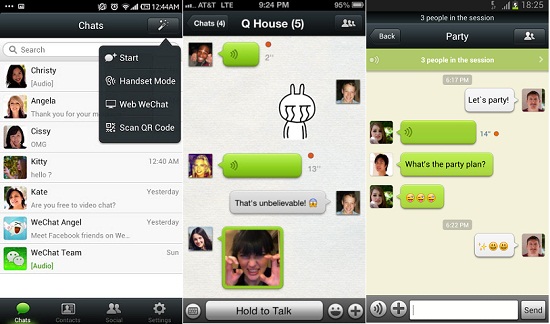 Main Features:
Talk faster on the go with voice messages
Crystal clear voice and video calls
Instant messaging with group chats and animated smileys
Real walkie talkie mode with up to 40 friends
Always on, no logouts, never miss a message
Get message alerts instantly with push notifications
Share, like, and comment on photos with your friends
Import contacts and add friends instantly
WeChat works over your phone's existing data plan or any WiFi connection.
ooVoo is used by more than 75 million users worldwide,
ooVoo offers video calls upto 12-way multi-stream group video calls with 4-way display means you can watch 4 people at a time
. 
ooVoo adjusts your video call to match your connection speed so you can keep talking without interruption even when your network speed is low, which is the unique technology with stunning video and crystal-clear audio.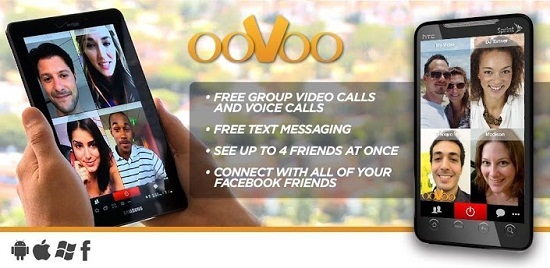 Main Features:
Unlimited video calling, voice calling, unlimited instant text messaging.
12-way multi-stream group video calls with 4-way display. (It's the only time you'll be happy to be put in a box.
Send instant messages even while you're on a video call
Search your address book, Facebook and Twitter for friends already on ooVoo
With push notifications for incoming video calls and text chat messages, you'll never miss an ooVoo call.
Line is also one the best free calling app available on Play & iTunes store, LINE also allows you to make FREE voice calls and send FREE messages whenever and wherever you are, 24 hours a day!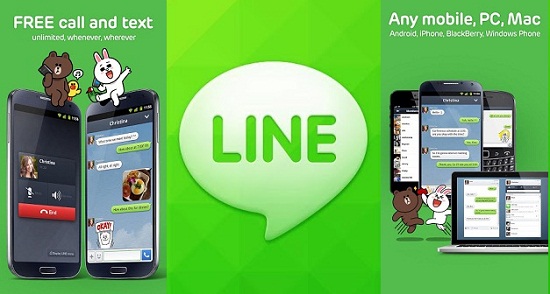 Main Features:
Free Voice Calls!
Available for PCs and smart-tablets
Express yourself using stickers and emoji.
Use 'Timeline' to see what your friends have been up to and what they have posted! Leave comments, messages and enjoy your communication.
Tango gives you the highest quality video & phone calls, texts, photo & video sharing, games for FREE! It's the all-in-one social networking app that finally combines every way you want to interact with friends & family.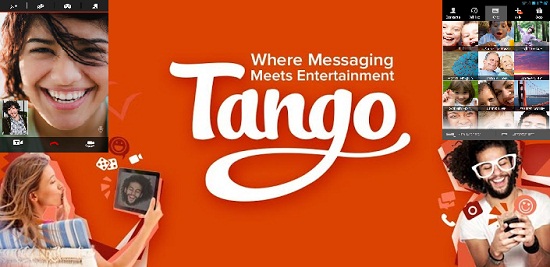 Main Features:
No login & password – create an account in seconds
Automatically finds your friends using Tango
Calls and messages work just like they do on your phone
Works across most smartphones, tablets, & PCs
Challenge your friends with games during your calls
Fring also offers Free Calls, Group Calls, Texting, Video, Group Video, and more, the best thing about fring is that its available for all major platform like Android, iOS and Symbian. The HIGHEST QUALITY calls and group calls (voice and video) on mobile! fring's DVQ™ technology (Dynamic Video Quality) gives you the best video and audio quality possible by automatically and continuously adjusting your video call quality to match your connectivity.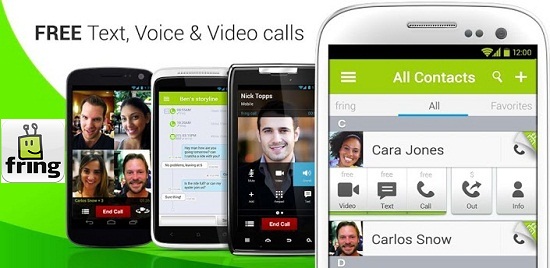 Main Features:
New! Use your phone number for registration instead of username / password same like Viber.
Group calling with 4 friends at the same time!
Free calls, messaging & video calls to other fring users worldwide
Hangouts from Google is an upgraded form of Google Talk with some new features, hangouts brings one-on-one and group conversations to life with photos, emoji, and video calls for free. Stay connected with your friends on Android, iPhone and PC. Unlike Google Talk, Hangouts does not support "invisible" status.
Main Features:
See when people are together in Hangouts, when they're typing, or whether they've seen your message.
Turn any conversation into a video call with up to 10 friends.
Message friends anytime, even if they're not connected right now.
Use Hangouts on computers, Android and Apple devices.
 Get notifications just once. Once you see an alert, you won't see repeats on your computer or other Android devices.
Thats all from our 7 free video calling apps, we would recommend you to use Viber, ooVoo, WeChat and Line. Do tell us about your experience with these apps and share with us in comments.
See Also >> 5 Sites To Make Free Android App, No Programming & Coding Skills Required