3 Free Screen Recording Apps To Record Screen as Animated GIF Images
Screen recording software are mainly used for tutorials, while making a tutorial on particular software with the help of screen recording applications allows their audience to understand it pretty well, demonstrations, or presentation are also one of the reasons for you to reach here on this page.
Recording screen as videos were one of the old and size consuming methods used by many professionals earlier but with these screen recording software you can record animations like video in small size image file as GIF. All of them are free to use and have many options in it which we will review in this article.
GifCam is a free and portable screen recording software, a
portable applications
does not require installation on your Windows, GifCam allows you to record screen as animated GIF. It have many options which you can use during screen recording like define screen area to record, set frame delay, edit frames, and lots more.
GifCam a freeware lets you place its transparent window over the screen area you wish to capture, and press a button. GifCam automatically records frames, inserts spaces, and saves the clip as a GIF that you can open and play in any program that supports animated GIFs like your browser.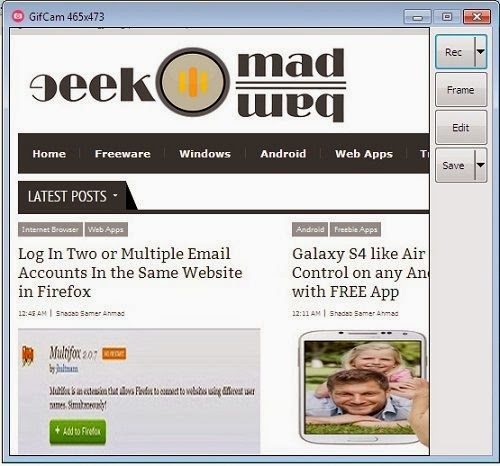 GifCam's editing features let you remove frames also, and five color reduction schemes not only let you customize your GIFs with interesting effects but also further reduce file sizes by discarding color data.
Screen to Gif is also freeware, open source and portable screen recording application that records screen as animated GIF. Screen to Gif has many options, first download this application from above link and run that file and it will provide recording frame per second to start the recording. It will stay always on top for recording easily your desktop whenever you need.
Once you are ready, you can click on record button to start recording, you can pause, stop and customize many options in the settings with the help of buttons on its app. I must say that if you are professional then you'll find this freeware helpful for making your desired animated tutorial or presentation in gif image file in many ways.
LICEcap is free and lightweight software that also can capture an area of your desktop and save it directly to .GIF which you can view in web browsers or gif supported software.
LICEcap lets you make movable recording frame which you can move all over the screen and to adjust the size of the frame while recording desktop screen. LICEcap also allows you to add text if you need while recording session. It also provides just like other software a basic output settings and lets you write title frame allowing you to set the time to display title frame and total elapsed time of the video.
In addition to .GIF, LICEcap supports its own native lossless .LCF file format, which allows for higher compression ratio than .GIF, higher quality (more than 256 colors per frame), and more accurate timestamping. Not only that, it provides you hotkey option like pause, resume and stop recording.
LICEcap Features:
Record directly to .GIF or .LCF.
Move the screen capture frame while recording.
Global hotkey (shift+space) to toggle pausing while recording.
Adjustable maximum recording frame rate, to allow throttling CPU usage.
Record mouse button presses.
Basic title frame, with or without text.
Display elapsed time in the recording.
That's it, now you don't have to wait anymore for making your presentation and insert your screen recording. I personally use GifCam for making any kind of screen recording which fulfills my need, do let me know which software you like and works best for you during making your screen recording animation.