10 FREE Data Recovery Software to Get Deleted / Formated Files
If you are one of those who think that data recovery software really works then the answer is yes, before we have shared a post
Tools to Recover Data from damaged CD / DVD
, sometime happens that we mistakenly or accidentally deleted important file which is important and deleted from recycle bin also then that could be one of the reason to recover your deleted file. Some of you think that free version of data recovery can't perform the task as premium version can do then its totally wrong, it is important that which free data recovery you are using instead of premium one.
I personally had experienced of formatting wrong partition during installation of Windows operating system, that was the horrible day of my life because that partition i formatted contained all my important files, i thought i have lost everything but didn't think about recovery, so here is a tip that always make a label name of your partition like data or important before formatting during Windows installation for playing safe side. Finally i recovered all data files of my hard drive.
You can recover your important files from Local Hard Disk Drive, Network Drive, USB Flash Drive, Memory Cards, CDs, DVDs or even from your Mobile Phones, these software can recognizes all major file system: FAT16, FAT32, NTFS, NTFS5 and NTFS/EFS and compatible with Windows 2000, Windows XP, Windows Vista, Windows 2003 and Windows 7, some of them support Windows 8 as well.
Recuva is a free data recovery application from the same developer of CCleaner, with Recuva, you can get all your data quickly, safely, and easily. This compact Windows program does the work for you, scanning your drives for the files you need, then recovering them in a flash.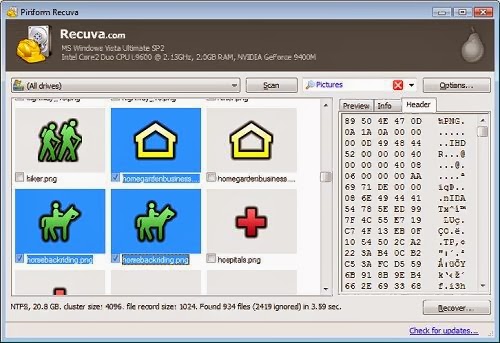 Windows (and other operating systems) uses a hidden index on hard drives, USB drives, and memory cards. Instead of having to search through the entire drive for a file you request, all it has to do is look it up in the index is a much faster process.
Pandora Recovery is the best and also free recovery application which allows you to find and recover recoverable deleted files from NTFS and FAT-formatted volumes. Pandora Recovery will scan your hard drive and build an index of existing and deleted files and directories (folders) on any logical drive of your computer with supported file format. Once the scanning is complete you have full control over which files to recover and what destination to recover them to.
If you are new to recovery application then it is recommended that you use Wizard. By default the Wizard will open automatically when you start Pandora Recovery. You can also access the Wizard by clicking on the wizard icon in the program toolbar.
Puran File Recovery free can be used to recover deleted, lost files and partitions. It has a very simple interface with powerful recovery engine A Full Scan that can detect deleted/lost partitions and even recover files from formatted drives. RAW and Physical drives can also be scanned. More than 50 formats/data patterns list expandable to hundreds of formats is included.
Puran File Recovery is compatible with Windows XP/2003/Vista/2008/7/8 including 64 bit versions. It provides native support for 64 bit versions.
Wise Data Recovery is a free data recovery program. It recovers your photo, word, email, txt, etc. files that have been "permanently" deleted and marked as free space by the operating system. The program can also be used to recover files deleted from USB flash drives, memory cards or MP3 players.
Wise Data Recovery is easy and simple. By few clicks only, you can search and recover the lost data. The types of files that can be recovered by Wise Data Recovery include image, document, audio, video, compressed file and email. And the devices that can be recovered include local hard drive, USB, camera, memory card, removable devices etc.
Glary Undelete is a free and easy-to-use yet powerful file undelete solution for FAT and NTFS file systems. It is also capable of recovering compressed, fragmented and encrypted files on NTFS.
It performs an automatic sorting according to the name, size and creation date of each file. Thus, once the user has pressed the search button, found items are displayed on the interface by specifying the related information.
TOKIWA DataRecovery is freeware to undelete accidentally deleted files even from recycle bin. You can understand it intuitively through simple UI. So there is no need for instructions. Also you can update DataRecovery to new version if available through Version info of system menu.
It supports FAT12, FAT16, FAT32,NTFS undeletion, NTFS compressed files and EFS encrypted files undeletion. And compatible with Windows 98/Me/NT/2000/XP/Vista/7.
Lazesoft Windows Data Recovery Free is easy to use and powerful Windows data recovery, easily undelete and recover data from formatted, damaged or lost partitions. Lazesoft Windows Data Recovery offers home users complete solutions for undeleting or recovering data from reformatted or corrupted hard drives and partitions.
If you have accidentally repartitioned, deleted, damaged or lost partition? No matter who or what has caused this damage, using Lazesoft Windows Data Recovery Free, you can easily recover your data.
FreeUndelete is free for personal use. FreeUndelete does the same job as all above does, it restores deleted files, including those removed from Windows Recycle Bin. In case of accidental removal of files on a file system NTFS 1.0, NTFS 2.0, FAT12, FAT16 and FAT32 and compatible with almost all Windows versions.
PC Inspector File Recovery 4.x is a data recovery program that supports FAT 12/16/32 and NTFS file systems. It finds partitions automatically, even if the boot sector or FAT has been erased or damaged, it also can recovers files with the original time and date stamp, it supports the saving of recovered files on network drives.
Restore files which are deleted from the recycle bin or deleted with Shift key by mistake. Restore program has another function that makes it almost impossible to restore all deleted files. You can use it after deletion of confidential documents, embarrassing files and so on.
That's it from our list of best data recovery applications.
IMPORTANT FOR RECOVERY! To increase the success rate of file recovery it is strongly recommended that you recover your deleted file to a secondary hard drive, a network drive, USB Flash drive, or other external media. While recovery to the same drive that the deleted files reside on is physically possible it may lead to partial or complete loss of your deleted content. Non-deleted files will never be put at risk in either circumstance.
If your lost data resides on your C: it is recommended you perform your file recovery by physically removing the C: drive from your computer and attaching it as a slave on another computer and then performing the file recovery using that other computer.
Data Recovery doesn't assure that all files deleted can be recovered successfully. It mostly depends on your system/configuration settings.