Top 10 FREE Android Battery Saver & Power Widgets
Android is the most popular platform on mobile and tablet devices because of its apps availability on play store, there are now more than 22 millions of app on Play store, it is the highest apps on any platform for now. There are also thousands of free apps for Android which we install without knowing the purpose of that app so that app sometimes becomes the victim of battery draining.
We have compiled 10 best but free Android apps those can prevent your Android phone or tablet from draining excessively, our top 10 list are on the basis of their number of downloads and rankings.
Easy Battery Saver is the most downloaded battery saver app on Play Store. Easy Battery Saver app specifically designed to extend battery life and optimize using habit. It saves phone battery by intelligently dealing with phone's network connectivity, screen time out and screen brightness. Its considerable sleep schedule setting will save mobile battery when you are sleeping.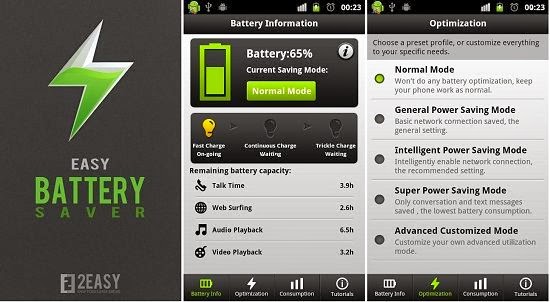 Downloads: 807,772 | Rating: 4.6
Easy Battery Saver has four preset saving modes and advanced customized mode. Choose one mode as per your need to let the app work accordingly.
Battery is a simple app that will help you know the current battery percentage on your Android device and saves a battery as a saver. Battery app will every time and everywhere let you know if your battery is charged enough to play a game, a movie and to browse the web or charge it now.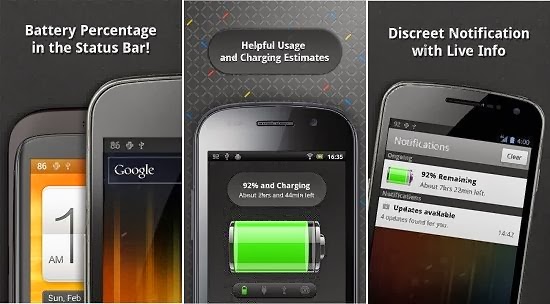 Downloads: 459,523 | Rating: 4.7
Main Features:
It is helpful and can serve as a battery saver Displays battery information in percent (%).Support for Android devices – from Ver. 1.5 to 4.3.Power source indicator.The precise battery level is displayed in 1% increments.Additional battery information: Temperature, Voltage, Health status and Technology .
Du Battery Saver is a Free Android app that extends and improves the battery life for Android phones and tablets.
It has smart pre-set battery power management modes with easy one-touch controls that solve battery problems and extend battery life. It also protect your Android phone against poor charging when you need it most, and battery hogging apps and overlooked device settings that can shorten your battery life.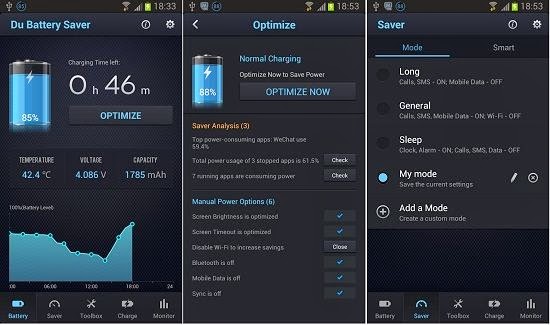 Downloads: 400,712 | Rating: 4.7
One click Optimize Now: Instantly discover and fix battery power-consumption problems and unlock detailed settings to super-tune your battery savings 

Smart pre-set modes:
General Mode: Save battery power even while keeping most Android services running;
Long Standby: Keeps dialing and SMS available while maximizing standby time;
Sleep Mode: Turns off most services EXCEPT THE CLOCK to save your battery power until the morning
Custom Mode: Create your own mode to get exactly the battery savings you need.
JuiceDefender is a free powerful easy to use power manager Android app designed to extend the battery life of your Android device. Its smart functions automatically and transparently manages the most battery draining components, like 3G/4G connectivity and WiFi.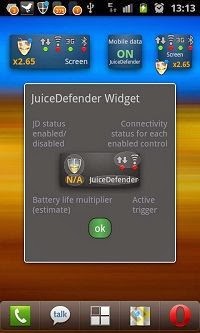 Downloads: 222,917 | Rating: 4.5
Main Features: 5 Preset Profiles (from default mode to full customization).Home screen Battery Widgets.2G/3G Mobile Data & WiFi toggle automation.Location-aware WiFi Control (e.g. enable WiFi only at home/work, disable it otherwise). Battery Consumption Optimization (e.g. when screen off, battery under threshold, etc.)Comprehensive Connectivity Scheduling (regular schedule, night time/peak time, week days/weekends).CPU scaling when phone is idle.Smart Brightness control.Bluetooth control with Automatic Reconnect.
Battery Doctor is best professional power manager for FREE, it is capable of extending your battery life and improve age of your phone or tablet. It is also supported in 19 languages.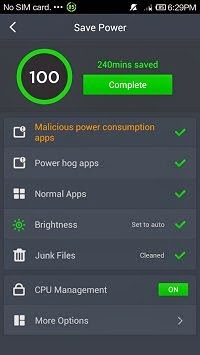 Downloads: 110,343 | Rating: 4.6
Main Features:Disable unnecessary apps that drain your battery.Inbuilt Task Killer kills tasks with one click!Kill apps when screen is off!Accurate battery remaining and charging remaining time!Schedule power saving modes for work/class/sleep and more!Unique 3 Stage Charging system: 1.Wifi/Data/Bluetooth toggle, 2. Brightness control, 3. CPU Management (for rooted phones)!Battery temperature!19 languages supported.
Battery Dr. can help you to save power and Improve your Battey life. Maximum your Battery life runs your phone faster and smoother. It also has built-in task killer allows you to kill processes on your Android devices quickly.

Downloads: 108,049 | Rating: 4.4
Main Features:Kills tasks quickly and reset your phone easily.Show battery health, temperature, talktime etc.Includes: Power Management(Battery Management), Battery Notifier, Battery Monitor, Power Control, task killer. Displays the health and the temperature of the battery.Full charge alarm.Show Battery Usage.
GO Battery Saver & Widget is one the best and professional power manager. It is capable of extending your battery life. Main options include power saving mode, smart saving, toggle control, power testing, etc. Forget about finding a charger in the middle of the day again with it.

Downloads: 102,056 | Rating: 4.5
Main Features: Widget that improves battery performance with personalized UI design.Accurately estimates battery remaining time.Indicates how much battery power will be extended if you shut down WiFi, Bluetooth etc.Battery consumption optimization in just one click.Smart battery save.Charging Maintenance to help keep the charging process safe and healthy.
Battery Defender is easy to use Battery saver, extends your battery life. If you don't want to pay for battery saver apps or night mode then Try this app.

Downloads: 43,462 | Rating: 4.4
Main Features: Automatically disable WiFi and data connection after you turning off your screen(with 15~20 secs latency).Genius Sync, allow app to sync every 15 minutes but save battery.Quiet sleeping. Disable data network and WiFi connections when you are sleeping. Sleeping time can be adjusted as your prefer.Low Battery Policy. When battery is running out, it will disable data network and WiFi when you are not using your phone.
2x Battery is a free app extends battery life and saves money, it also offers day time and night time settings. This app extends battery life by using a smart algorithm to turn on/off the Internet connection, so you don't need to manually turn on/off the Internet connection anymore, reduce battery consumption and data usage, but still keep the important background data synchronized.

Downloads: 39,063 | Rating: 4.3
Main Features: Auto manage 3G/4G/WiFi connection in the background.Show battery level and usage in the status bar.Manage Internet connection intelligently in the background.Ensure data transmission completeness by keeping the Internet connection up until the transmission is finished.Support whitelist. Don't disconnect the connection when whitelisted apps are running.Auto turn off the screen when you put the phone upside down on the table or into the pocket.Build-in screen filter to further reduce the screen brightness for saving battery.Battery icon theme is changeable.Option to not enable mobile data when screen unlocked.Home screen widgets.
One Touch Battery Saver works when the power is insufficient in your device, you can click "Power saving" mode to activate the mode, it will deactivate WIFI, Bluetooth, GPS location system, background light、vibration and synchronization. Or you can activate silent mode. 

Downloads: 28,497 | Rating: 4.4
Main Features:Battery Monitor, clearly shows the status of battery life and usage.Switching & managing Wifi, bluetooth, GPS, background light, sound, synchronization in one touch, saves battery with efficiency.Self-Customized Saving Mode, user can adjust the battery saving setting freely to fit each one's needs.Battery Usage Setting, will adjust the battery usage status automatically to monitor the battery life more accurately.3 different battery models to choose, to fit your needs and style.Tab widget: comes with 2 styles (1×1, 2×1), different styles of widget allow you to turn on the app with one tap! Easy and fast!
That's it from our top 10 list of Android battery saver apps, do tell us your favorite app or suggest us if we miss any free app which works great on your phone.