Know Your Sent Email Has Read & Prevent Yourself From Tracking
Before today, i wish i could ever track my emails and know that someone has read my sent email or just deleted it without opening to it or still to be read. There is small service called Bananatag which lets you track your emails you send and for free.
Bananatag works with your browser by adding their addon or extension on Chrome or Firefox for Gmail, Outlook and other email clients. Bananatag addins work with your email client, and automatically communicate with their server before sending your email, adding the tracking elements before it sends, without changing your text or the way you send your emails normally.
We've tested it on Gmail to let you know how to set it up on your browser and email client, i normally use firefox and gmail so my review will be on them.
How To Enable Email Tracking on Gmail?
1. First, go to the website and signup there by using your email account which you want to use for tracking, then it'll ask you to choose your desired browser extension and email client, as i chose gmail & Google apps on Firefox.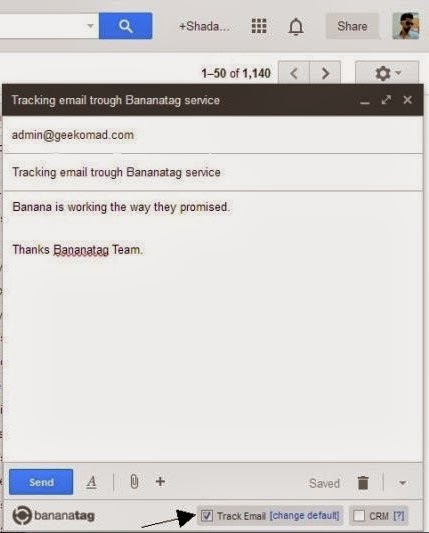 2. After installing your extension on firefox simply open your gmail account, and click on Compose button to compose, a pop up box will appear for you to type the Recipient email address, Subject and your content, you can see Bananatag extension beneath your message, check or uncheck tab to track email or not. And, your work is done, whenever your email is read you'll get notification by email.
How to Prevent yourself from being Tracked?
Now you know how easily you can track your emails with Bananatag service but what if when someone does the same thing with you and you have been tracked by others, friends could be tracking the emails they send you this very same way. But, you know an easy way to prevent yourself from it which probably they don't.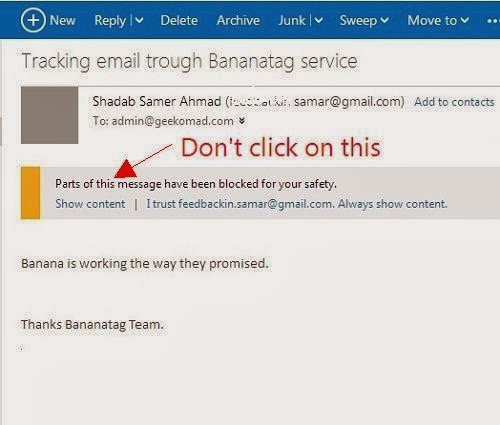 Whenever you get the email you doubt then don't click on the button that asks you to display images (on Gmail) or show content (on Outlook), just don't request to display them or show the message. 
Or if you do then sender will get Email that Email Opened like below.

I know its almost impossible to do this for every email (since some will have pictures you want to open), but if you doubt an email that makes no mention of images but asks you to display them, then you should remember the service Bananatag that the sender may be using. 
So how Bananatag works?
Bananatag embeds a small, 1×1 pixel transparent image in every email, hosted on their servers. When you open the email, Bananatag server gets notified that unique image has been accessed, and then send the same thing to sender that their email has been opened. 
Sometimes, you face the same thing in your daily life where you receive emails and where short links are inserted into it, never ever click on them if you don't know the sender, those links are head back to their server so they know when they're accessed. 
Bananatag just want to track your clicks, but other evildoers can use this same trick to get into your bank account, PayPal account, or something similar, so it's a good rule to follow. If the link text goes somewhere you trust then fine otherwise don't click them.