How to Listen your Emails & News on Android with FREE App
Technology making us lazy day by day, we now need everything but without making much effort, so we have today an Free Android app called Listen to Emails and News for everyone but especially for lazy people like me.
StreamShell is a free hands-free app allowing you to read your mails out loud while you're on the move. Also that let's you listen to news, sports, technology updates, stocks and local weather. This free app supports hands-free controls for navigation over via bluetooth, speech recognition and the hand gestures.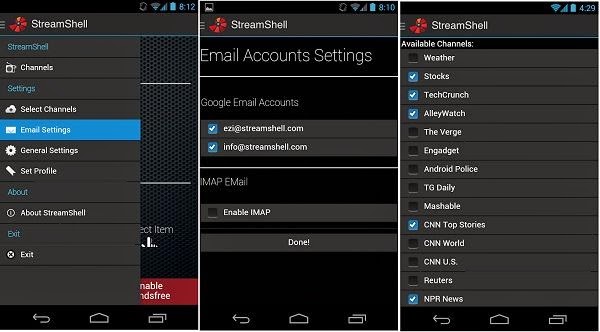 Listen to Emails and News
StreamShell is optimized to save your internet data plan while on the go. The app will download the files requires for text-to-speech conversion. Most channels (with the exception of podcasts such as TED Talks) the app gets text from the web and translate it to speech on the device. By doing so, you can listen to emails and channels for hours every day and keep your data plan under control.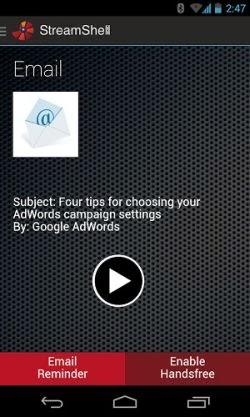 You can add multiple Email accounts in it. The app lets you select from the email accounts you've already added or click on
Enable IMAP
to add more Email accounts.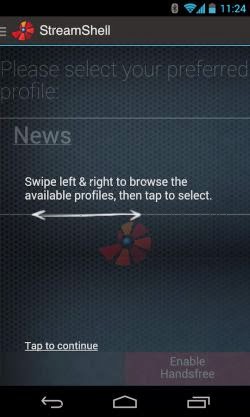 To go through the channels, simply swipe right or left across the screen. Swipe down within a selected channels, and you will see all the channels under it. To go back, simply swipe upwards. you can see all the channels that are available and can select the ones you want to have displayed within your list.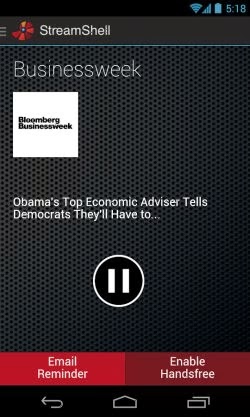 To use this app for hands-free feature, you can activate it by tapping on the Enable Handsfree button at the right bottom. To play or pause the text-to-speech audio.
Main Features:Fully Hands-free operation without the need to look at your screen.Hands free support via bluetooth, proximity sensor and speech recognition.High quality Text To Speech.Support both Gmail accounts and IMAP email servers.Automatically stops reading when there is an incoming or outgoing call.Automatically dims the screen to preserve battery life, while enabling you to operate the app.Current supported channels: Emails, News, sports updates, technology updates, lifestyle articles and podcasts.