How To Convert Video Files Easily With VLC Media Player Option
There are many video convertors available online those perform the same video conversion but many people don't know the inbuilt video conversion feature of VLC, almost every PC owner owns VLC on their Windows PC today but for playing CD/DVD or Video files only.
VLC can saves your money and Windows system space which slows down due to load of many useless applications, follow these steps to convert your local, CD/DVD or LAN video files into your desired video format, VLC supports almost every popular media format like .wmv, mpeg-4 & .avi today and you can even convert video to audio format with VLC.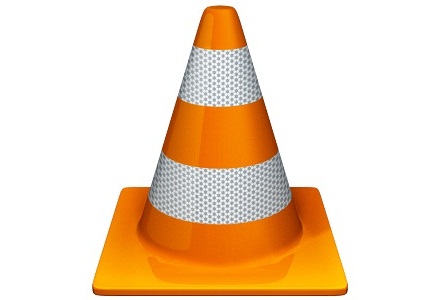 How to Turn VLC Player into Video Convertor Tool:Step 1:
Run the application VLC Media Player by clicking on
Start > All Programs > Video Lan > VLC media player
, now go to
Media
, a top navigation
tab,
then click on
Convert/Save or
you can use the shortcut
Ctrl + R
.
Step 2: Now a new Windows will open asking you to Open Media files, here in the File Tab you can add local video files by clicking on Add button, it'll add files into the list for conversion and click Convert / Save button (see screenshot below).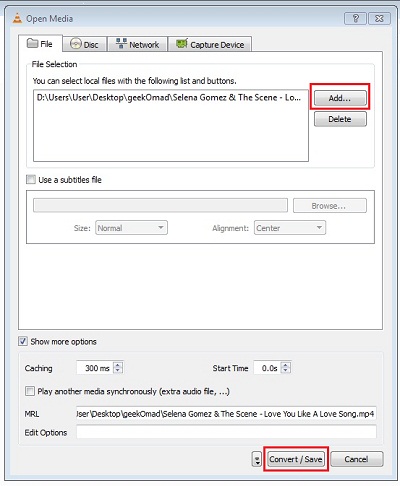 Step 3: After clicking on Convert / Save button, a new windows will appear to select the Source file and the Destination to save after conversion and the Audio & Video formats which you have to choose here in Settings > Profile (see screenshot below).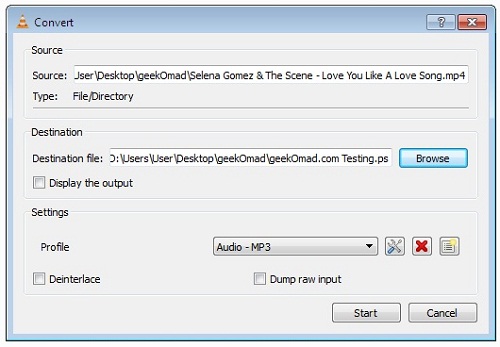 Step 4: After browsing your destination click on Start, as you can see we chose video files to convert into Audio .mp3 format for making this post, you can choose various video & audio formats.
After clicking on Start button, the conversion will start and you can also see its progress in the progress bar and finally successful conversion it will play your video files.
Similar Posts:
Tiny Free Software Converts Audio Files Format To Another In Windows How To Convert MS Word Document To Audio .WAV File To Hear The Text