Block Online Website Ads on IE, Firefox, Opera & Chrome Browser
It is sometimes very irritating for daily online users to watch same advertisement everyday on various websites because of browsers cache and cookie, it also takes time to load and consume a lot of internet data pack for limited internet pack users. Blocking ads on Android is already available in Google Play market but today is another post for internet browsers.
Adblock plus is a free browser extension works on almost all major internet browsers so no need to think about your OS platform. Adblock Plus blocks almost all online ads by default like video ads on YouTube, Facebook ads, pop-ups, pop-unders and even image ads from the websites.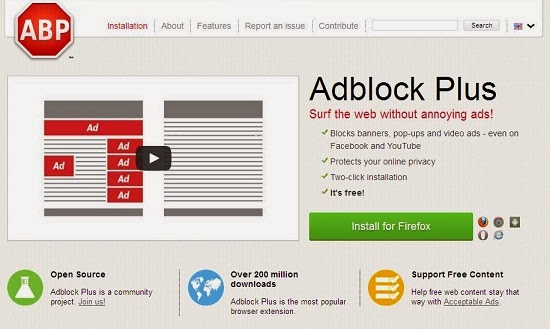 You only have to install Adblock Plus to your browser (available for Internet Explorer, Firefox, Chrome and Opera) or your Android smartphone, all intrusive ads are automatically removed from any website you visit.
In every browser, there are multiple firms tracking your online activity and browsing history. Adblock Plus you can easily disable all tracking, and allow you to browse the web anonymously.
We have tested it Mozilla Firefox 25 so our test and installation method will be according to that.
In Firefox:
In Firefox select Firefox" >> "Add-ons" (for Mac OS X / Linux, select "Tools" from the menubar >> "Add-Ons"), this will open your Firefox Add-ons Manager.
In the Add-ons Manager under the "Extensions" tab, you will find Adblock Plus like below:

Now select "Preferences" to access the Adblock Plus profile, and click on "Filter Preferences.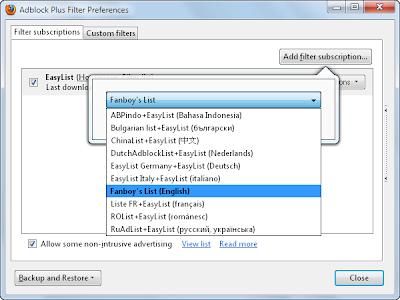 Now  click on "Add filter subscription", and open the drop-down menu for the filterlist subscriptions to add new/more filters. Select the list you wish to subscribe to, this menu only shows the most popular and recommended filters. Adblock Plus automatically enable these lists by default. We chose Fanboy's List and you can select yours.