7 FREE Firewall Software to Protect Windows PC
A firewall is a software program or a hardware based security that helps your PC to protect from hackers, viruses, and worms that try to reach your computer over the Internet or Intranet. A firewall establishes a barrier between a trusted, secure internal network and another network (e.g., the Internet) that is not assumed to be secure and trusted.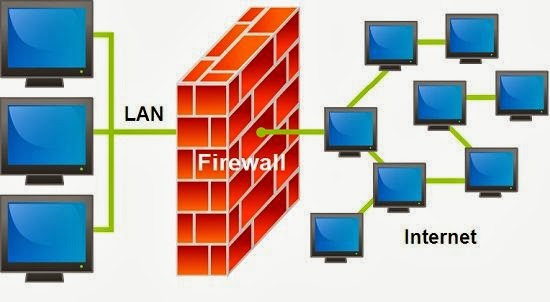 Latest Windows operating system also comes with inbuilt firewall, which can
block an any website
with it. But, you can also try third party free firewall for Windows. Here is our compilation of all major free firewall for Windows.
Comodo Firewall is one of the best firewall in the world, you must have heard Comodo for its Antivirus software which is also very popular.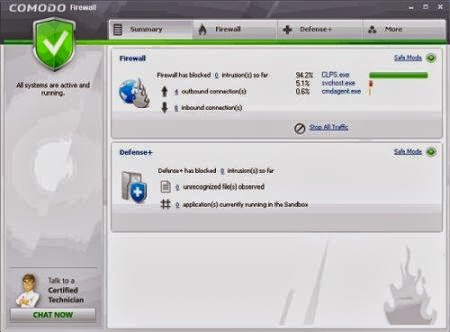 Comodo firewall Keeps you updated on all suspicious files, its prevention-based technology stops viruses, automatic updates for the most current protection.
ZoneAlarm Free Firewall is a popular software, according to their website, it is world's most downloaded firewall software, it has plenty of features to satisfy all your needs, simple but useful features which even a beginner can use, must try if you are looking for Windows firewall alternative.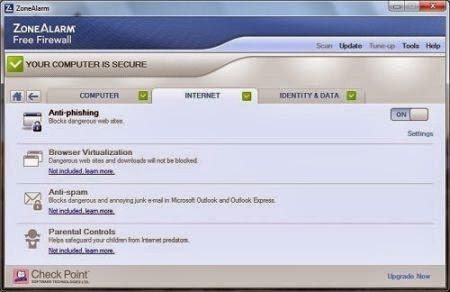 ZoneAlarm protects PC against hackers and spyware, it is effective and quiet security that won't slow you down your Windows, it's easy for anyone with new quick install with simple interface.
PC Tools Firewall Plus is a free firewall for identifying and eliminating malware, while giving you the possibility of managing network access for open applications.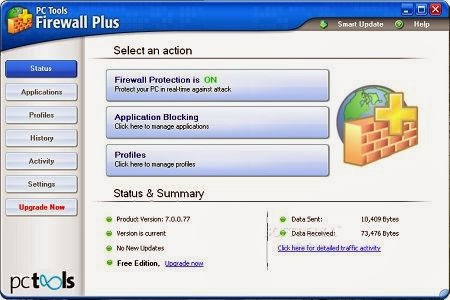 PC Tools Firewall Plus allows you to view current network traffic and firewall activity (sent and received bytes for each active application). PC Tools Firewall Plus records everything to a history panel, and you can export logs to a CSV file.
Emsisoft's Online Armor is a shareware firewall suite that offers strong protection against malicious programs, hacker attacks, and other privacy and security threats.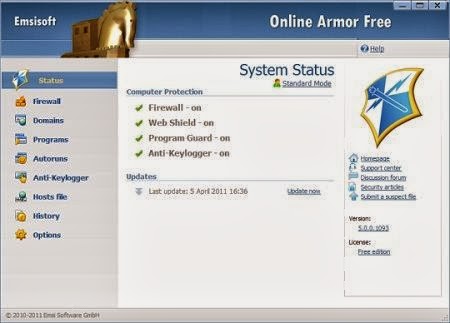 You'll have to temporarily disable your antivirus software before installing Online Armor, though the program plays nicely with most antivirus tools when it's up and running. Online Armor has four main components: Firewall, Web Shield, Program Guard, and Anti-Keylogger. Users can choose from three modes: Standard, Advances, and Banking Mode.
TinyWall is a free and lightweight software to harden and control the advanced firewall built into modern Windows systems. TinyWall does not annoy you with popups as all free version does, yet it is still extremely easy to add exceptions to your firewall rules, it is actively blocks hundreds of trojans, viruses and worms and does not require you to know about ports, protocols and application details.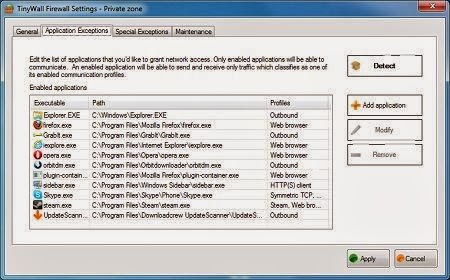 TinyWall prevents malicious programs from modifying the settings of Windows Firewall and does not install drivers or other kernel components, the most important thing is it is free and lightweight.
Agnitum is the first fully functional free version of an Internet security suite for Windows users. Outpost Security Suite FREE 7.1 builds on the acclaimed antivirus, firewall and proactive protection technologies. The free solution employs modern techniques to prevent infections, data corruption and PC intrusions. Must try if you need everything but free of cost.
Privatefirewall free monitors your online activity privately to learn your usage patterns. It detects and blocks anomalous usage patterns that could signal an intrusive attack on your system. As with other firewalls, you can easily allow any activity. But Privatefirewall's system is designed to make allowing regular programs less frequent (and annoying) while still protecting you from threats.
Privatefirewall enables separate Profiles for Home, Office, and Remote connections, a handy option for laptops. We could import and export the program's settings, including Process, Email, and System Anomaly Detection settings.