5 FREE File Encryption Open Source Applications For Windows
Encryption is a process of encoding messages (or information) in such a way that unknown people or hackers cannot read it, but the authorized user which that file belongs to can access it. Encryption software's main task is
encryption and decryption
of data, mainly in the form of files on hard drives and removable media (USB Flash Drive), email messages, or in the form of packets sent over computer networks.
Here is a list of free five encryption software whose executes an algorithm that is designed to encrypt data in a way that it cannot be access without a key. Encryption is now days using by all major companies to protect their important data from competitors, Encryption software are mainly used to protect sensitive data from third parties.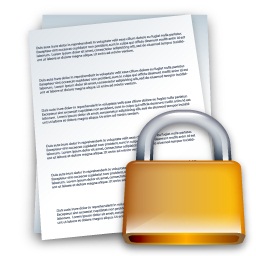 TrueCrypt is software for establishing and maintaining an on-the-fly-encrypted volume (data storage device). On-the-fly encryption means that data is automatically encrypted right before it is saved and decrypted right after it is loaded, without any user intervention.
No data stored on an encrypted volume can be read (decrypted) without using the correct password/keyfile or correct encryption keys. Entire file system is encrypted (e.g., file names, folder names, contents of every file, free space, meta data, etc).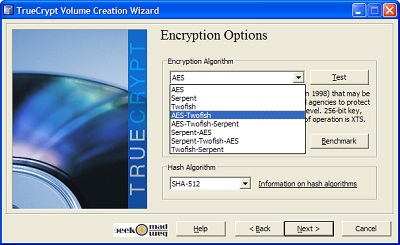 TrueCript Features:Encryption is automatic, real-time (on-the-fly) and transparent.Creates a virtual encrypted disk within a file and mounts it as a real disk.Encrypts an entire partition or storage device such as USB flash drive or hard drive.Encrypts a partition or drive where Windows is installed (pre-boot authentication).Parallelization and pipelining allow data to be read and written as fast as if the drive was not encrypted.Encryption can be hardware-accelerated on modern processors.
AxCrypt is free open source and easy to use strong file encryption for Windows 2000/2003/XP/Vista/2008/7, integrated with Windows Explorer. Encrypt, compress, decrypt, wipe, view and edit with a few mouse clicks. Cryptographic primitives are AES-128 and SHA-1.
Encrypted files have a ".axx" extension added to their names (which by default is hidden, but can be displayed if the option to display known extensions in Windows is enabled), and are shown with a new icon.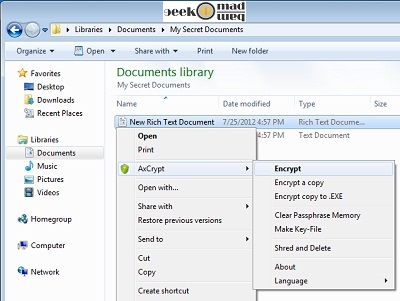 AxCrypt Features:Double-click to edit/view with any application.Automatic re-encryption after modification.Open source under GNU General Public License.12 languages in one executable distribution.Extensive command-line interface for scripting and programming.Windows 2003/XP/Vista/2008/7 32 and 64-bit compatible.AES encryption with 128-bit keys.
1 Second Folder Encryption Free is a
fast and simple encryption software
. With 1 Second Folder Encryption Free, you don't have to worry about your child find your amor photo, It allows you to easily protect your data in your computer.
When you encrypt your folder with 1 Second Folder Encryption, it could not be accessed, copied, deleted, moved and renamed. Hence, with Folder Encryption, you can keep the special data secure.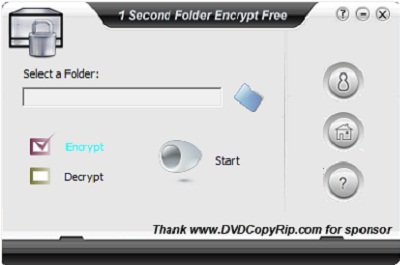 Easy to use 1 Second Folder Encryption:
1. Run the Folder Encryption program, and Check "Encrypt" option
2. press "browse" button, to select a folder
3. press "Start" to start encrypt
1 Second Folder Encryption Features:Fastest and Simplest, with one-click Encryption and Decryption.When Folder Encrypted, folder not only can't be accessed, but can't be copied, deleted, moved and renamed.Provide password setting for the software.Warning: It is a only amateur encryption software, You had better not encrypt the important files with 1 Second Folder Encryption. We can't guarantee the data absolute security.
Cryptophane is an easy-to-use Windows application that works with GnuPG (a PGP-compatible encryption program.) It allows users to encrypt, sign, decrypt, and perform key maintenance without having to deal with GnuPG's command-line interface.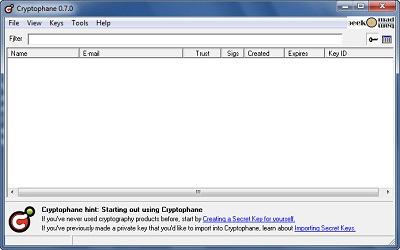 Encryption may be a complex thing but not with Kryptel, just right-click a file or a folder and select 'Encrypt' – or drag it to the Kryptel desktop icon. Kryptel produces not just an "encrypted file"; its files are containers that may contain thousand of files and folders.
If you want to decrypt a few files only, or just peek inside. Kryptel Browser is an Explorer-like tool, which lets you easily browse or modify a Kryptel container and view & decrypt the files it contains.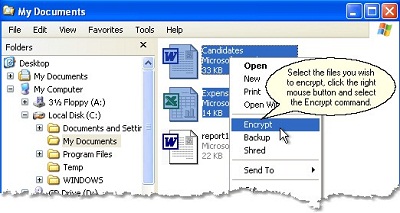 That's all, these all are freeware open source tools to encrypt files and folder on Windows OS, but you can also use in-built encryption service which is already available from Windows 7 NTFS files system to latest Windows platform.