3 Best Pattern Lock FREE Software to Unlock Windows 7, 8 Screen
There are many ways to protect computer from unauthorized access and pattern lock is one of them. Pattern lock firstly used in Android platform and became very popular. If you have used pattern lock on Android then it is not very new for you but if you haven't used it then let me clear you that it is a way of protection for your Windows PC works by drawing a pattern. These all 3 software are screen locking software. Locking your Windows screen prevents other people from using your PC when you are unavailable.
If you think that it'll replace the default Windows login screen password with pattern unlock then i tell you before that it only works after typing default Windows password or you may say that it is more a specifically a screen lock software. After installing pattern unlock application you only have to draw your saved pattern to unlock your Windows computer.
Eusing Maze Lock uses a pattern based technique (see the picture below). You first have to download this free software from above link, install it and run it on your PC then it'll ask you to set your own unlock pattern by connecting some of the nine dots together. There is a also default unlock pattern has been pre-set. After setting your pattern, your pattern will be saved on your PC so whenever you try to unlock your Windows computer, you only need to draw the same pattern you set before.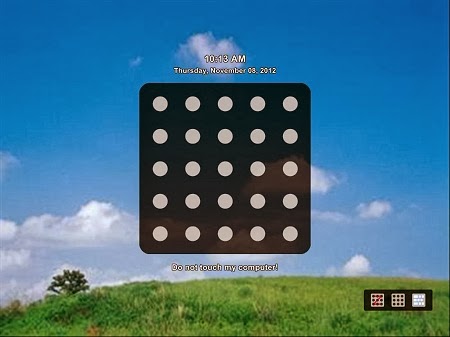 You can set your customized maze by "Reset Password" option which changes the pre-defined pattern lock. After setting your own pattern lock, you also can set options to Autolock Windows on startup and Autolock Screen with your customized pattern after specified interval of time or you can even lock screen immediately. You can also take a backup of your set pattern in case you forget your pattern in future in snapshot.
Eusing Maze Lock is one of the most popular screen unlocking application by drawing your customize maze pattern.
XUS PC Lock is another Windows screen locking application. First download it from above link, run this application and then you have to set your lock pattern, so the next time when you unlock your PC you have to trace your mouse in the pattern you drew before on your computer and it will be unlocked.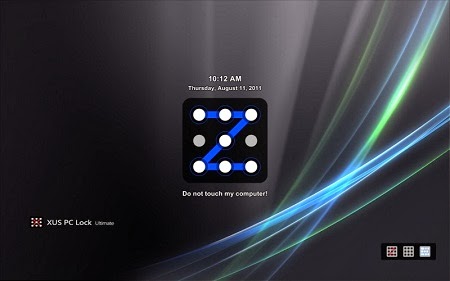 XUS PC Lock is a good software but available on trial, if you want to use its full features then you need to pay $19.95 for full license. XUS PC Lock allows you to choose your own custom images for the lock screen. XUS PC Lock can also set to auto-lock the computer when windows starts and if you want to lock your PC now then you can click on its icon on startup for locking your screen immediately. You can set an alert mode when the incorrect pattern is entered a maximum times.
ModernLogin is another pattern lock software for your Windows PC. ModernLogin developed by Italian developer and made it in the form of screensaver. It works same like your screensaver, it gets activated after a selected time of inactivity on screen. But, unlike other screen savers it allows you to unlock your Windows screen by entering pattern password.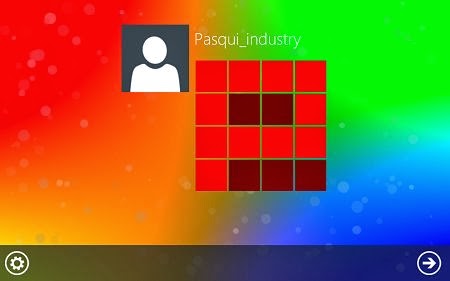 To use this ModernLogin you need to download it from the developer site which is availabe free of charge, it is available in zip file, extract it and you'll see the application, now right click on it where you'll see three options: Test, Configure and Install. Click on install to install this software. When you go to its settings, you'll see Select a background, text color, Time Format, Data Format, Select Language and closing Sound options, where you can change anything among the list if you want.
ModernLogin works by leaving a screensaver on your system. Now you can unhide the background image by dragging the lock screen in the upward direction. Once you do this, the pattern lock appears. Now you have to enter your set pattern to unlock screen. 
That's it from our reviews of best pattern lock software for Windows 7, 8 and XP, pattern lock is a new way to unlock your screen so try them out and leave your feedback about these applications.