3 Best Free Bootable Antivirus Rescue Disk Tools For Windows
Sometimes your PC got infected very deeply with malware and cannot be removed from your computer easily. In that situation,  this Rescue CDs performs their task. A Rescue CD will boot from its own program, it scans your complete PC and Remove infections, repair files and recover systems which regular antivirus software unable to perform.
Antivirus Rescue Disk perform a scan and removes viruses without booting the Windows operating system. They scan directly from the CD so that you don't need Windows to boot from infected  hard drive. It is basically a CD-based operating system that you are allowed to access and scan your complete hard drive.
Read Also >> 5 FREE Tools To Make Bootable USB Flash Drive – Windows & Linux
Top 3 Bootable Antivirus Rescue CDs Tool: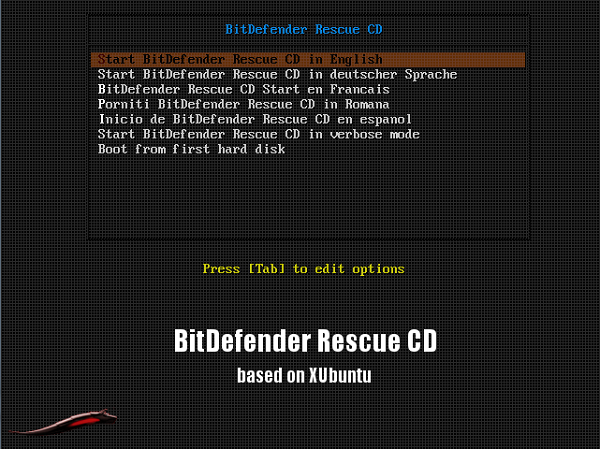 Bitdefender Rescue CD
Bitdefender Recue CD tools is free and the best tool to scan your PC offline, this tool restore your Windows if you are unable to reboot your system anymore. Download the Rescue CD from below link, boot that affected PC from that CD tool, follow the onscreen instructions to scan your system. The Rescue CD will scan your computer and rectifies problems & issues.
File Size: 379 MBs
Price: Free
Format: ISO (Compatible to install from USB)
Download Free BitDefender Rescue CD tool, this tool is available in .iso file, you can burn it on the blank CD or by using bootable tool for USB Flash drive, you can boot from USB also to scan your system.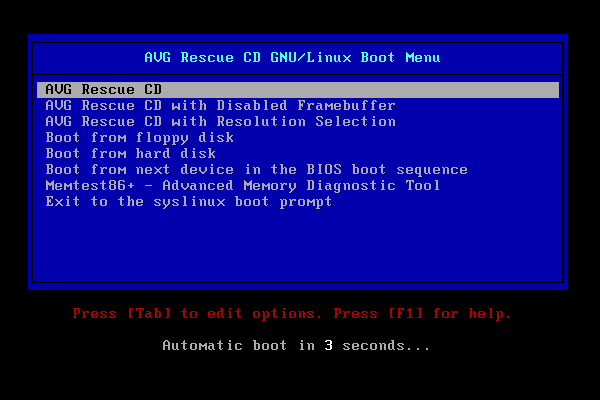 AVG Rescue CD Tool
The AVG Rescue CD is available in two versions: an ISO image for CD burning, and a compressed version that can be installed to a bootable flash drive (USB). Once you choose your desired device to boot from, you'll have the AVG menu, where you can scan for viruses, edit files, test your drive, or even edit the registry.
File Size: 85 MBs (for CDs), 92 MBs (Compressed files for USB)
Price: Free
Format: ISO, RAR and ZIP (Compatible to install from USB)
3. Kaspersky Rescue Disk: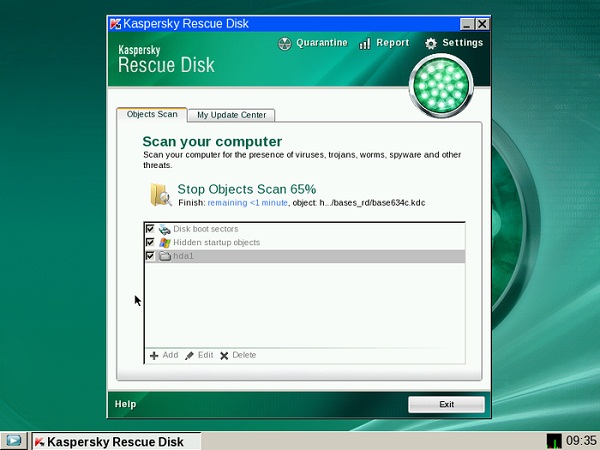 Kaspersky Rescue Disk Tool
Kaspersky Rescue Disk tool does a nice job, simply create a bootable CD and boot from it, once booted from Rescue tool select the objects to be scanned and hit the scan button. The tool then thoroughly scans your system and if it finds the infections in your computer it will presents a report of all suspicious objects found. These objects can be quarantined, disinfected, or removed as per your choice.
File Size: 237 MBs (for CDs), 378 KBs (Utility for USB)
Price: Free
Format: ISO, RAR and ZIP (Compatible to install from USB)
How to install Kaspersky Rescue Disk to USB device and boot PC from it:
Before making a bootable USB Flash drive, do remember disk space capacity of it must be not less than 256 MB. The USB device must have FAT16 or FAT32 file system. If it has NTFS file system then format it in FAT16 or FAT32 to perform this task.
In order to do install the Rescue Disk in USB and make it bootable, perform the following actions:
1. Run the downloaded file Utility file rescue2usb.exe.
2. Kaspersky USB Rescue Disk Maker window, click Browse… and select the ISO image of Kaspersky Rescue Disk 10.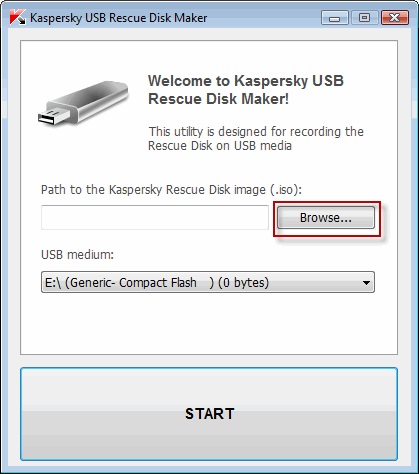 Kaspersky USB Rescue Disk Maker
3. Select the required USB device from the USB medium drop-down menu.
5. Finally wait until the process is complete.