Want to know the last Shut Down time? here we go..
This one for the Internet addicted folks like me or the good Counter Strike lovers and one who use their laptop as downloading machine for day and night. So guys when did you shutdown your machine for the last time? No idea! GET IDEA and follow these steps-
In XP type eventvwr.msc in the Run dialog box-Please for God sake don't ask me how to open Run dialog box.
And if you use Vista or Windows7  then type the "Event Viewer" in the Start Search Box.
Now click on the System tab in the left panel.
Now look for the first occurrence of event with event id 6006. This will give us what we are searching for.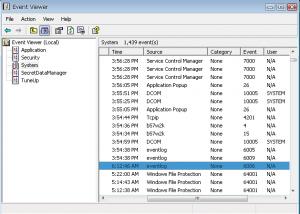 So now you know the last shutdown time. It is  6:12 AM and this is not unusual for a net addicted guy. Enjoy and wait for the next post.