How to Remove Subscribe to Posts Atom Link From Blogger
Removing "Subscribe to: Posts(Atom)" Link From Blogger. You can locate this links bellow every post or page, near to page navigation.
In every post page there is a link like "Subscribe to: Post Comments(Atom)"
In every page other then post page it may be like "Subscribe to: Post (Atom)"
Here is a Screen-shot for You :>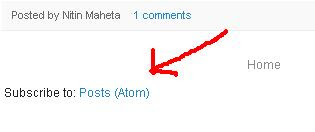 How to hide this Links?
1. Go to Blogger Dashboard > Design tab > Edit HTML tab
2. Press Check  Expand Widget Templates checkbox
3. Then serach for the following line of code and remove it.
and Save Your template., you are Done.